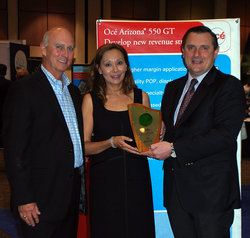 "ProRepro has done an excellent job of incorporating sustainability throughout its entire operation, including the products they use, their office design, and their employee programs."
Irvine, CA (PRWEB) May 28, 2010
ProRepro, Southern California's fastest growing document production and reprographic technology company, announced today that they were awarded the "Green Reprographer of the Year" by Océ. This award was received with great enthusiasm by ProRepro's staff at the IRGA convention held in Palm Springs, CA on May 19th. Company President, Cindy Kennedy, stated "We are thrilled to be recognized for our hard work and will continue to strive to lead the way with sustainable practices in hopes that the entire industry can benefit."
This year, a panel of independent judges, including Denise Gustavson, Editor of Wide-Format Imaging magazine, Robert Cassidy, Editor-in-Chief of Building Design+Construction magazine, and Ed Avis, principal of Ed Avis Associates, a communications firm specializing in the imaging industry. "In recognition of their continued efforts to promote sustainability throughout their business operations, we are proud to congratulate ProRepro as the winner of Océ third annual Green Reprographer of the Year award," said Patrick Chapuis, President, Wide Format Printing Systems of Océ North America.
The panel of judges cited ProRepro's use of ENERGY STAR® rated reprographic equipment, conversion of 99% of its equipment from solid toner to cartridge free technology, FSC certified or 30% poster consumer waste recycled paper usage, the developed alternative sustainable solution to replace Gatorboard or foam core, and ProRepro's active participation in the 2010 Project Playhouse Fundraiser.
Furthermore, ProRepro continues their push on sustainability by providing the innovative Sustainable Reprographics Solutions, SRS®, program. They promote client site based receptacles; regular new job pick-ups when delivering finished jobs, and sorting services. All paper is then sorted at ProRepro's in-house recycling center and sold to the proper recyclers. The company donates all labor and cost associated with the recycling program for free and 100% of the funds collected from the recyclers are donated to the client's charity of choice. Over 50 charities have been supported as a result of the program.
Internal best practices include direct deposit, fully stocked kitchen to allow employees to stay on site during lunches, occupancy based and compact florescent bulb lighting. Also all company vehicles are rated at a minimum of 35mpg, and the company's vehicles fleet includes Toyota® Prius® and Scion® models, which reach an impressive 45mpg.
"ProRepro has done an excellent job of incorporating sustainability throughout its entire operation, including the products they use, their office design, and their employee programs, " said Robert Cassidy. "They are a forward looking company that is clearly capable of technical innovation, reducing its own environmental impact, and driving a strong sense of community involvement."
Océ is the leading supplier of technology and equipment to the reprographics industry. The company's solutions are based on Océ's advanced software applications that deliver documents an data internal networks and the Internet to printing devices and archives locally and around the world. Supporting the workflow solutions are Océ digital printers and scanners. Océ offers a wide rage of display graphics consulting, and outsourcing solutions.
ProRepro is a woman and minority owned company with a strong commitment to innovative green technologies. ProRepro specializes in reprographic communication technologies and on-site facilities management for architecture, construction, and engineering firms in Orange County. Keeping up with emerging technology, ProRepro provides virtual reality, co-location, and 3D modeling services. Also a reseller for Autodesk® and Bluebeam® Pro Repro helps to enhance their client's ability to effectively communicate their ideas.
###