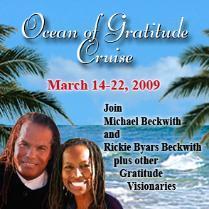 today's messenger with tomorrow's message
Ojai, CA (PRWEB) January 29, 2009
The third annual Ocean of Gratitude Cruise departs Ft. Lauderdale on March 14 for 8 days of soul-stirring presentations and amazing spiritual awakenings punctuated by inspirational songs, spontaneous dances, and powerful practices.
The cruise visits the ports of Cozumel, Mexico where participants can zip through the jungle, snorkel in the ocean, or visit Mayan ruins; Limon, Costa Rica for kayaking in the rainforest or visiting a coffee, banana or pineapple plantation; and Colon, Panama and a trip to an indigenous Indian tribe, a mountain bike ride in the Panamanian forest, or an opportunity to join a peacekeeping native drum circle (facilitated by Christine Stevens, Ocean of Gratitude presenter).
Dr. Beckwith, a featured teacher in 'The Secret,' guest of Larry King, and founder of the 10,000 member Agape International Spiritual Center in Los Angeles, is joined by his wife, Rickie Byars Beckwith , the spirit-sparking singer, songwriter & composer. The couple is famous for making beautiful music together, lifting up the soul and inspiring potent possibilities through music, meditation, movement and their own personal magic.
This year's cruise sets sail on the Carnival Freedom, aptly named for the life-freeing messages that attendees will hear from some of today's finest spiritual and self-growth teachers:
Break through the barriers of self-sabotage and reach full potential with Dr. Sue Morter , referred to as "today's messenger with tomorrow's message," who will take the participants through her amazing process of Bio-Energetic Synchronization.
Awaken the power of dancing to one's own music with Tama J. Kieves , author of 'This Time I Dance' and creator of 'Awakening Artistry', a practice of learning to live without limits in work, life and love.
Discover how to enter the Global Marketplace through Charlie Stuart Gay , visionary and founder of Humanity Unites Brilliance, a movement of social entrepreneurs supporting each other to achieve abundance through empowerment giving.
Focus on the possibilities and power generated by positive thought, and the joy and inspiration generated by spiritual spontaneity with spiritual leader, motivation speaker, and American Softball Player of the Year, Rev. Temple Hayes of Unity in St. Petersburg, FL.
Drum for Peace near the Panama Canal with world-famous drummer Christine Stevens who recently returned from her second trip to Iraq where she created drum circles uniting enemies in combat zone.
Experience Gentle Yoga with Susan Winter Ward, founder of Yoga for the Young at Heart.
Design a creative blueprint for healing the soul with a collage workshop facilitated by Eveline Marie Smith, a hands-on practice for expressing inner beauty.
Create a personal journal of gratefulness with Jill Daniel and Mary Kay Cocharo , founders of the "Gratitude Groove: A 40 Day Empowerment Program for Women Friends."
Conference co-creators and sisters, Karol Avalon and Marybeth Grant of Avalon Productions, share a commitment to empowering people and communities to increase their potential, awaken their spiritual consciousness and develop into the best possible partners in the new paradigm of the our world. Past participants in the Ocean of Gratitude have called the experience "Mind-blowing and fantastic," "A gift from the Universe", "A week of good food, good friends, love" and "An extraordinary journey filled with infinite love and gratitude."
Sponsors for this year's Cruise include Ola Loa Vitamins for vibrant healthy living; H2Om Water, natural spring water infused with the power of positive energies; Grateful Goddess gifts; Bleep Store, an online store where science and spirit unite; Spirit of Water blessings labels; Kneipp natural bath and beauty products; Wings Bookstore in St. Petersburg, Florida; and the HappyTapper.com, your Gratitude Journal on your I-Phone.
2009 ushers in an exciting time of renewed hope and expansion for our world as our new President Barack Obama urges us to join together in hope, humility, service and gratitude. The Ocean of Gratitude Cruise (http://www.oceanofgratitudecruise.com), 415-302-5529, March 14-22, 2009, lights the way to "explore gratefulness in a magical way on a mystical voyage to peace, prosperity and happiness."
Media Contact: Karol Avalon
Phone: 415 302 5529
###