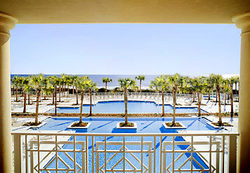 Myrtle Beach, SC (PRWEB) May 17, 2010
The Myrtle Beach Resort & Spa at Grande Dunes is making it easier for families to take vacations this spring. The hotel is giving guests an extra night for free with their Get a Fourth Night Free Package. Unlike other Myrtle Beach family vacation packages, this package encourages guests to extend their vacations.
Guests who book this package will receive a fourth night for free when they pay for three nights. Travelers can receive resort view, ocean view or deluxe ocean front rooms with this package.
Rates range from $149.95 to $229.95. The offer is valid until May 27, 2010. Promotional code ZJL must appear in the Corporate/Promotional Code box when ordering online.
Those who book this package are encouraged to take advantage of the onsite beach. Vacationers can walk from their guestrooms to Myrtle Beach, where they can splash in the water and sunbathe. In addition, guests can participate in some of the water sports that are available. People can rent jet skis, go surfing or take part in one of the other water activities. All of these activities are located close to their Myrtle Beach accommodations, and the staff of the Myrtle Beach Marriott Resort & Spa at Grande Dunes is available to help guests find places to rent equipment.
Those who like the water but don't enjoy the beach can use the hotel's indoor and outdoor pool. The onsite pool features a waterslide, making it a popular choice for guests and children. Those who choose this option can order food and drinks from The Cove, which is a pool bar, while they swim and sunbathe.
For more information about the Myrtle Beach Resort and Spa at Grande Dunes, visit Marriott.com or call 1-843-449-8880.
About Myrtle Beach Resort & Spa at Grande Dunes
The Myrtle Beach Resort & Spa at Grande Dunes is one of the most popular hotels on Ocean Boulevard. The hotel features luxurious guestrooms, resort style grounds and onsite beach. In addition, the hotel has restaurants, a fitness center and spa. Guests can grab a meal, get a facial and then retire to their opulent guestrooms. Travelers stay in luxury when they stay at this hotel.
###