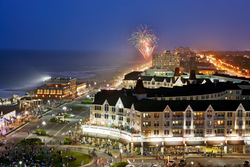 The new residences -- many of which offer balconies -- were designed to embrace the tranquility of beach living
Long Branch, NJ (PRWEB) June 27, 2008
A new collection of 216 luxury rental residences has grand opened to the public at at Pier Village, the award-winning, mixed-use community located along the burgeoning oceanfront in Long Branch, NJ.
The new residences feature spacious floorplans complemented by a host of upscale finishes and appointments. Monthly rents currently range from $1,365 for studios-to-three-bedroom homes. Initial occupancy is slated for this September.
The new phase -- which also includes private amenities, a 24-room boutique hotel with a public lounge, and 1,800 square feet of retail space - joins Pier Village's already impressive makeup of 320 residences that are fully leased and occupied, an eclectic offering of restaurants and boutique shops, and an incomparable oceanfront setting, according to developer Applied Development Company of Hoboken, NJ.
"Now in its fourth year of existence, Pier Village is an established, premier destination brimming with year-round activity," notes Greg Russo, an Applied Development Company Vice President. "From its convenient Monmouth County location, refurbished beach and rebuilt boardwalk to the exciting mix of dining, shopping and entertainment options, Pier Village offers an atmosphere unlike any other along the Jersey Shore. In fact, Travel & Leisure Magazine singled this area out last year as one of the '20 Great American Beaches.' With that said, we fully expect the new residential residences to be just as well received as was our initial offering."
The new phase at Pier Village will feature four buildings that add a modern twist to the existing Victorian-inspired architecture. Private amenities include an outdoor pool and a billiards lounge with flat screen TVs. The iconic hotel will be much more modern as it will sit at the entrance to the community at the intersection of Ocean Blvd. and Laird Street.
"The new residences -- many of which offer balconies -- were designed to embrace the tranquility of beach living," notes Jackie Urgo, President of The Marketing Directors, Inc., Pier Village's marketing and exclusive leasing agent.
"Open, airy and flooded with natural light, each home is elegantly appointed and includes wall-to-wall carpeting and expansive windows with privacy blinds in the bedrooms. Gourmet kitchens feature custom cabinetry and a full complement of GE appliances, including individual washers and dryers in every home, while bathrooms are clad in ceramic tile accented by polished chrome fixtures. Onsite parking is also available."
Residents will also appreciate Pier Village's upscale entertainment and cultural destination that is active 12 months a year. In addition to the community's unique offering of restaurants, cafes, boutique shops and European-influenced beach club, there are a number of recreational and social activities occurring year round. These include live theater, concerts, farmers markets, arts & crafts exhibits, food festivals, and holiday activities.
Applied Development Company is seeking approvals from the City for a third and final phase at Pier Village that will consist of a 100-room hotel, 200 rental residences, 75 condominium homes, 20,000 square feet of retail space and a new oceanfront public park.
For more information on Pier Village, call 732-923-0100, or visit the website at http://www.piervillage.com.
To visit the community, take the Garden State Parkway to Exit 105. Proceed on Route 36 East to Rt. 71 South. Continue on Rt. 71 through 3rd traffic light onto Cedar Ave. On Cedar Ave. make a left onto Ocean Blvd. Proceed for 1.5 miles then make a right onto Laird St. Follow signs to Leasing Center.
Based in Hoboken, NJ, Applied Development Company has a 30-year history of focusing on the redevelopment and revitalization of New Jersey's urban centers. Applied and its principals have developed thousands of residential units and hundreds of thousands of square feet of commercial space throughout New Jersey; the company continues to own and manage the overwhelming majority of this portfolio. Applied is currently engaged in the active development of over $1 billion of residential and hospitality real estate.
###