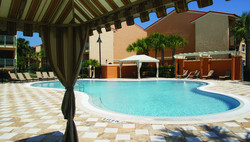 If Fannie Mae warrants its approval of a project, it certifies that the property is secure enough for Fannie Mae to purchase the mortgage loan
Jacksonville Beach, FL (Vocus) September 29, 2010
Ocean's Edge, the beachside community of condominium homes in south Jacksonville Beach, has received Fannie Mae project approval, making it possible for qualified buyers at the community interested in a conventional loan to receive financing. Along with Ocean's Edge's approved FHA loan option, Fannie Mae approval provides an opportunity to own a home at this beautiful resort-style community to a larger group of buyers.
"A Fannie Mae approval of a condominium project means that loans secured by individual condominium units within the project are eligible for delivery to Fannie Mae, and therefore a secure investment for financial institutions," said Holly Rasmussen, sales and marketing vice president for Condo Capital Solutions LLC, the owner of Ocean's Edge. "In today's market, there are many condominium communities that do not have Fannie Mae approval, which makes it very difficult if not impossible in the current lending climate for buyers to finance the purchase of a condominium as a second home or vacation home."
To receive Fannie Mae approval, Ocean's Edge satisfied multiple criteria, said Vikki Robbins, partner of Pace Builder Services, a locally owned real estate company responsible for sales and marketing at the community. Robbins and her business partner, Vicki Bratvold, began managing sales and marketing at Ocean's Edge in September 2009.
To receive Fannie Mae approval, Ocean's Edge had to prove that the condominium association is financially healthy and current residents up to date on their condominium dues. Ocean's Edge had to show the community is primarily comprised of owner-occupants and second homeowners rather than investors. It also needed to demonstrate a low incidence of loan defaults and delinquencies.
"If Fannie Mae warrants its approval of a project, it certifies that the property is secure enough for Fannie Mae to purchase the mortgage loan," said Robbins. "We have been able to provide proof that primary and second-home purchasers are buying at Ocean's Edge, and because owner-occupied condominium communities tend to enjoy more stable property values than investor-owned communities, this signifies to lenders that Ocean's Edge is a warranted project. Without Fannie Mae approval, lenders simply aren't offering conventional mortgages in Florida condominiums. That is why this approval is so important."
According to its website, Fannie Mae operates in the U.S. secondary mortgage market. Rather than making home loans directly to consumers, Fannie Mae works with mortgage bankers, brokers and other primary mortgage market partners to help ensure they have funds to lend to homebuyers at affordable rates.
Robbins suggests everyone interested in purchasing a home in a condominium community should ask the right questions.
"You always want to know if the ratio of owner-occupants and second homeowners versus investors is appropriate, if the community is FHA certified and if they have Fannie Mae approval. Ocean's Edge can emphatically answer yes to all of these questions," she said.
More information about Ocean's Edge is available by calling (904) 247-9052, visiting the community at 107 25th Ave. South in Jacksonville Beach or visiting online at http://www.oceansedgeliving.com.
About Ocean's Edge
Located one block from the Atlantic Ocean in the vibrant Jacksonville Beach area, Ocean's Edge is a beachside community of condominium homes. The community offers one-, two- and three-bedroom coastal homes priced from the $160,000s. Ocean's Edge situates residents within walking distance of local dining, nightlife and retail venues while allowing the opportunity to experience the beach lifestyle of sunning, surfing, kayaking, fishing and more.
The community features abundant amenities including a beautiful new clubhouse, state-of-the-art fitness center, resort-style pool and lagoon, poolside outdoor grill and summer kitchen, lake with observation deck, and a private putting green.
The community is near some of the world's best golfing and tennis locales and residents can walk to the area's year-round art and theater events. Foodies can take advantage of local
eateries such as Panera Bread, Starbucks, Jason's Deli, Roy's and Bonefish Grill, all of which are only a few steps away from Ocean's Edge.
Ocean's Edge is located at 107 25th Ave. South in Jacksonville Beach. To experience
ocean-side living at its finest, call (904) 247-9052 and schedule a tour of the community or visit
http://www.OceansEdgeLiving.com.
###