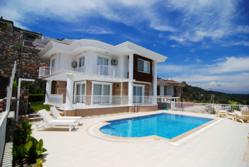 Overseas buyers who now wish to sell on or move up the Turkish property ladder are currently finding they can do so quickly buoyed by mortgage ready Turkish investors - we are delighted to be entering our eighth year on such a positive swing.
(PRWEB UK) 13 May 2013
Turkey Property specialists, Oceanwide Properties report heightened activity in the coastal Turkish property market. Overseas purchasers wise enough to have invested in Turkey during its early noughties boom are currently reaping buoying resale rewards from the Turkish home market which has jolted into action on the back of plummeting mortgage interest rates.
The property firm, who exclusively operate along the country's southern Mediterranean coast, saw in their eighth year of business with bumper sales over two consecutive days from British vendors to Turkish buyers to the value of over three quarters of a million pounds, subject to contract.
Suleyman Akbay, Oceanwide Properties Managing Director, states: "We are delighted to be entering our eighth year on such a positive swing. As a long standing agency serving both British and Turkish buyers, we are one of the few companies to have seen coastal Turkish property in the Mediterranean region work its way through the ups and downs of global and local market cycles."
Becoming a Limited Company in 2005, Oceanwide Properties launched themselves into the industry by marketing properties in the small harbour town of Fethiye. Akbay continues: "Back then quality resale property in Turkey was in short supply. The spurt of low cost new builds coupled with eased zoning rules, which allowed for more land to be developed and sold to overseas buyers, meant we entered at a time of a seller's market.
"The global credit crunch saw new build construction slow and the tables turn to a buyer's market. However, having seen through their own financial crash in 2001, Turkey was already on a firm policy route to safeguard growth. This has helped keep markets moving to today and for many of our European buyers, for example, we have been able to present a long-standing sunnier option for hard earned cash and a promising escape from failing banks and pensions – something which more traditionally favoured Euro-spots like Spain and Portugal have not".
Today, Turkey's marching economy is adding an emergent home market of affluent Turkish property buyers to the mix. These buyers are fast capitalizing on mortgages that have seen interest rates cut hugely. (Since 2002, rates have been brought down by a phenomenal 80%. Source: Central Bank of Turkey).
"This has accelerated our local sales volumes," concludes Akbay. "Overseas buyers that bought wisely in the early days and who now wish to sell on or move up the Turkish property ladder are currently finding they can do so quickly. This past month, in Fethiye for example, our new sales agreed are equaling the number of new instructions suggesting that in some pockets of Turkey at least, demand is pushing us back to a seller's market. It's an exciting time to be marketing property in Turkey, and certainly an excellent start to our eighth year!"
To celebrate their eight years in business, Oceanwide Properties is offering their full portfolio of sales services on a no upfront fee basis. The firm is also launching a property 'introducer' scheme, offering financial rewards for new property referrals in the Fethiye area. For full details, visit their website at http://www.oceanwideproperties.co.uk or call their UK or Fethiye estate agent office on +44207 424 7892 / +90252 614 9174.

Notes to Editor
Oceanwide Properties is a long standing member of the National Association of Estate Agents, the European Confederation of Real Estate Agents and International Real Estate Federation - UK Chapter (FIABCI). The company has offices in the UK and Turkey.
For more information, supporting pictures or logo artwork, please contact:
Tel: +44 (0) 207 424 7892
Email: media(at)oceanwideproperties(dot)co(dot)uk