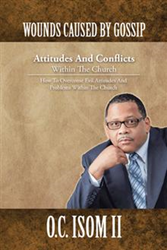 "We must realize the core of our problems we face today stem from gossip and affect many, causing them to be wounded," Isom said. "Many people can endure all kinds of physical affliction, but when our spirit is wounded, it can be very painful."
DETROIT (PRWEB) June 03, 2015
Stones are thrown every day, yet many do not realize when they are the ones throwing them. These stones come in the form of gossip and the result is unending conflict infiltrating the world today. In O.C. Isom's new book WOUNDS CAUSED BY GOSSIP Attitudes And Conflicts Within The Church: How To Overcome Evil Attitudes And Problems Within The Church" (published by AuthorHouse), he details how to overcome and heal from the wounds of gossip.
Isom has dedicated his life to educating others on the emotional pain caused by gossip as well as the division and conflicts it creates. "WOUNDS CAUSED BY GOSSIP Attitudes and Conflicts Within the Church" illustrates the seriousness of negative words and the toll they take on one's spirit. With much negativity and gossip in the world, it is easy for one's spirit to become damaged and hardened. It is for this very reason Isom has spent numerous years seeking groundbreaking solutions to restore pride and peace within others.
"We must realize the core of our problems we face today stem from gossip and affect many, causing them to be wounded," Isom said. "Many people can endure all kinds of physical affliction, but when our spirit is wounded, it can be very painful."
Highlighting the failed attempts from the government, churches and the workplace, Isom shares how a simple change of one's mindset and attitude can transform the way we live in a community. Readers who are suffering from a damaged spirit will benefit from the healing methods discussed in this book.
"WOUNDS CAUSED BY GOSSIP Attitudes And Conflicts Within The Church"
By O.C. Isom II
Hardcover | 6 x 9 in | 306 pages | ISBN 9781491868133
Softcover | 6 x 9 in | 306 pages | ISBN 9781491868140
E-Book | 306 pages | ISBN 9781491868126
Available at Amazon and Barnes & Noble
About the Author
O.C. Isom earned his bachelor's degree in theology and his master's in counseling from Cypress Bible College in Van, Texas. He is the founder, bishop and senior pastor of Word Up Apostolic Ministries. He resides in Benton Harbor, Michigan with his wife of 40 years.