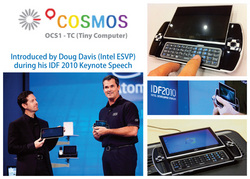 Ever seen a handheld that can run StarCraft II? You have now
New York, NY, (Vocus) September 16, 2010
OCOSMOS Co., Ltd, a leading Korean innovator and developer of digital fusion technology solutions, is celebrating the launch of the world's smallest personal computer and gaming device: the OCS-1 Tiny Computer (TC) at a post-launch party September 17th at 7 pm, 1436 Polk Street, San Francisco, CA. Be one of the first journalists to see the tiny computer that is revolutionizing both business and gaming mobile PC markets.
Event: Product Promotion Event
Location: 1436 Polk Street, San Francisco, CA
Date and Time: September 17th, 7 pm
Why You Should Attend: OCS1 is the world's most powerful mobile device on which you can play desktop PC quality games anywhere anytime even Starcraft 2, Halo, and WoW, and do office work and image editing (2D&3D) faster than desktop PC. It will be available to public in North America early next year.
For more information and to RSVP, please contact:
Ksenia Denisova 401-868-7329
Mira Zivkovich 917-653-5034
Grace Lee 917-301-8886
After rave reviews at IDF 2010, OCOSMOS invites qualified journalists to a demonstration and introduction to the world's smallest PC. The size of a mobile device with the same processing power as a desktop PC, users can take pictures, work on documents, play Starcraft 2, Halo, and WoW all from the palm of their hand.
"Ever seen a handheld that can run StarCraft II? You have now," says Sean Holister, contributing editor for engadget.com.
Doug Davis, ESVP at Intel, introduced the OCS-1 TC during his keynote speech on September 14th at IDF 2010. It uses Intel's newest and most innovative OakTrail CPU technology, Windows 7 OS and OMOS Key interface so tasks and games commonly performed on a laptop or desktop can now be completed anytime, anywhere. It is the first generation of TC product with the same power and functionality as a Mobile Internet Device or Ultra Mobile PC, yet in a much smaller and more convenient size so users can enjoy a true mobile lifestyle.
"The OCOSMOS TC delivers a new platform of tiny PC technology that benefits both business users and the gaming public," says OCOSMOS representative Jay-Hun Kim. "You no longer have limitations of mobile CPU or mobile OS. Instead, you can enjoy the full resolution of an exciting game experience and create documents with only two keys." OCOSMOS's unique OMOS Key interface overcomes the limitations of existing mobile devices with an innovative "Two-Key" tool.

1.5GHz Oak Trail chip
Intel GMA600 integrated graphics
Up to a 64GB of solid-state storage
WiFi and Bluetooth
1024 x 600 capacitive touch screen
Front and rear cameras (1.3MP Camera in Front / 3.2MP Camera in Back)
A microphone for video chat sessions
Windows 7 OS
4.8-Inch (Diagonal) Widescreen Multi-Touch Display
1024-by-600-Pixel Resolution
OMOS Key Interface: Use as Mouse & Customizable Allowing Character Input
1GB of RAM Installed Upgradable to 2GB
Right/Left Keys on the Shoulder for Gaming
microSD Memory Card Expansion Slots
Mini USB & Full USB
The OCS-1 TC looks more like a smartphone or handheld gaming console than a full-fledged computer and comes with twin joysticks. But, its x86 processor runs Windows 7 and adds a powerful edge to change the game of the mobile revolution. In fact, users will find that working and image editing (2D & 3D) is faster than on a desktop PC.
"The TC is a revolution in mobile culture," says Kim. "With its Intel 1.5GHz Oak Trail chip and GMA600 integrated graphics, the OCS-1 is positioned to blow away other portable gaming consoles on the market, not to mention PCs."
The OCOSMOS OCS-1 TC will be available to the public in North America early next year. In the meantime, OCOSMOS is planning to develop games optimized for this TC by working with more than 20,000 developers throughout world to bring forth the full performance quality.
About OCOSMOS:
OCOSMOS is an innovator of revolutionary "Mobile Input Devices" that lead the era of digital convergence. Our world first patented input device, the "OMOS Interface," sets a new standard to surpass the limits of current mobile terminal devices. We continually challenge the IT market to create new technologies that improve our world.
About MZI Global:
MZI Global is a strategy consulting and implementation firm that focuses on market entry and globalization via its Ethnosynergism® market entry methodology. Since 1987, MZI Global has successfully completed over 1000 projects. A market entry strategy rainmaker, MZI Global ventures into new domestic and/or international markets.
MZI Global's clients represent some of the leading Technology Asian suppliers across various industries, including technology. With full support of the SBC Korean exporting agency and its trade association, South Korean companies are becoming trusted partners for U.S. buyers. Hundreds of new South Korean products can be sourced via the MZI Global network.
MZI Global's Ethnosynergism® network of relationships includes local and foreign governments with 1000+ companies and across 10 + cultures and languages. It focuses on internal and social responsibility, as well as helping clients achieve market entry prowess on a global scale.
###