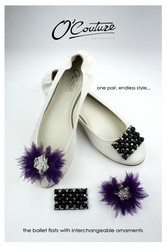 A single pair of O'Couture shoes can take a woman from the office to a dinner party with a simple ornament change, while saving environmental resources without comprimising style.
Irvine, CA (PRWEB) June 29, 2010
For Sebnem Eler Acar and Zehra Balkan Buyukuncu, a passion for shoes as well as entrepreneurship provided the foundation to launch O'Couture, an Orange County, Calif.-based footwear company founded on the basic premise that women ought to have endless choices when it comes to shoes — without having to spend a small fortune.
"We all love shoes," says Sebnem Eler Acar, who co-founded O'Couture with friend Zehra Balkan Buyukuncu in January 2010. "We never seemed to find high-quality, all-leather shoes that we seek at a more affordable price point."
O'Couture features a signature line of high-quality leather flats with interchangeable ornaments. Customers simply pick a shoe style and color, select their ornaments — and swap them out anytime to match a new outfit or occasion. The shoes can take a woman from the office to a dinner party with a simple ornament change, thereby supporting a "less is more" philosophy that means many styles fit in just one shoe box. It also means women can buy fewer shoes and reduce their carbon footprint without compromising style.
While company co-founders Sebnem Eler Acar and Zehra Balkan Buyukuncu have no prior footwear industry experience, the minority women entrepreneurs have quickly learned the ins and outs of running a successful, socially responsible enterprise. As a company by women and for women, the partners make sure their manufacturers follow European standards for fair employment, with no child labor or sweat shops used to manufacture the shoes — and they also provide opportunities to women, who handcraft the ornaments from the comfort of their homes.
"Consumers are getting more and more engaged with the brands and their identities these days and are willing to spend their money for a good cause when they shop," says Acar. "That is why we are very proud of our company philosophy at O'Couture."
Currently available online at http://www.ocouture.us, O'Couture shoes and ornaments will soon arrive in select boutiques across the United States. Product samples are available upon request for retailers interested in carrying the O'Couture line.
About O'Couture
One pair, endless style: That's O'Couture. Based in Irvine, Calif., O'Couture — whose name pays homage to its Orange County roots — came about not only from the founders' own entrepreneurial spirit, but also from their desire to make their mark in the fashion world with a stylish shoe line that wouldn't break the bank for increasingly budget-conscious consumers. Each pair of O-Couture shoes is made with top-quality Italian leather and features interchangeable ornaments that cut down on consumption of natural resources and the release of environmental pollutants by allowing women to do more with less — in other words, buying fewer pairs of shoes without sacrificing style. Versatile, stylish and affordable, O'Couture footwear is currently available for purchase online through O'Couture's website, and the company is seeking wholesale partners throughout the United States. For more information and to become an O'Couture Facebook fan, log on to http://www.ocouture.us .
# # #