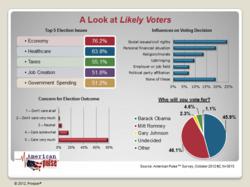 Romney Leads Likely Due to Economic Issues
Worthington, OH (PRWEB) November 01, 2012
With the 2012 presidential election less than one week away, a special complimentary report from American Pulse™ provides timely and trended insights regarding hot button topics, voting behavior and preferences, straight from the voters likely to shape the outcome of the election. (The latest poll includes 3615 respondents; Margin of Error is +/- 1.6%.) Close to 9 in 10 (86.8%) U.S. Adults 18+ likely to head to the polls (or already have) and their opinions on issues facing the country provide a glimpse into who their plan to vote for and why.
Key Findings Among Likely Voters: (View the full report which includes popular segments that may make or break the election.)
Domestic Issues

71.4% rate the economy as poor/terrible; 52% say it's heading in the wrong direction.
76.2% say economy will have the most impact on their vote; 37.2% say President Obama's performance regarding the economy has been "terrible."
53.9% know someone receiving unemployment benefits; 55.1% know someone receiving food stamps.
62.4% say election uncertainty has impacted their spending and 43.7% say its impacted life decisions.
1 in 4 is waiting until after the election to decide on a holiday budget.
54.6% say racial divide has grown somewhat/a lot in the last four years; 39.3% feel it's somewhat/very likely that the result of the election could lead to social unrest.
International Issues

More say "President Romney" would increase their confidence in foreign policy (37.8%) than President Obama (26%).
Voters split on which candidate would handle world affairs better in general or handle a terrorist attack.
59.3% think the U.S. is losing some/a lot of power in the world.
Likely voters most concerned about America's relationship with Iran (83.7%), Afghanistan (76.7%) and Pakistan (75.7%).
Voting

77.5% say nothing can stop them from voting this year.
80.5% believe their vote matters.
Top 3 election issues: Economy (76.2%), Healthcare (63.8%), Taxes (55.1%).
24.3% say social issues/civil rights have most influence on their voting decision, followed by personal financial situation (19.3%). Religion/morals follow at #3.
One-third say concern with loss of government assistance will influence their vote.
54.9% agree that voter fraud is a major issue in the U.S.; 62.3% are concerned that fraud could change the outcome of the election.
77.1% agree that all voters should be required to show ID.
Popular post-voting activities include: encouraging others to vote (51.5%), wearing an "I voted today" sticker (44.2%) and telling others that they voted (40.6%).
What does it mean for the election?

69.9% are excited to vote.
49.5% believe Obama doesn't deserve a 2nd term, 42.8% believe he does.
Candidate match-up: Romney 46.1% vs. Obama 45.9%.
Source: American Pulse™, OCT2-12, N=3615
View the full report which includes popular segments that may make or break the election. And for even more trends on Voters and additional segments, check out the complimentary American Pulse™ App and InsightCenter™. Click HERE for more information.