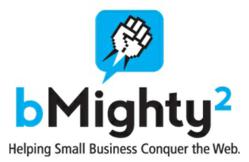 "Every business process we have, every go-to-market strategy we craft, everything we do is built around what motivates a small business owner and what keeps him or her up at night. Our job is to understand marketing and digital technology." - Jim Stockman
Asheville, NC (PRWEB) October 02, 2012
Powered by a team with years of experience in marketing, technology, and design, bMighty2 is a new digital marketing agency that promises to help small businesses find success online. The start-up will help small businesses leverage the Internet and Web 2.0 for their marketing needs using a multi-channel approach. Services to be offered by bMighty2 include website development, local search engine optimization, email marketing, social media marketing, and directory link building.
"bMighty2 was built from the ground up to help small businesses understand and leverage the web to grow their business," says company CEO Jim Stockman. "Because we've built our company around small business, we're able to deliver high-value functionality at an affordable price, which is more important now than ever during the current economic times."
bMighty2 offers several online marketing packages; all include website development with advanced mobile design, local search optimization and mapping, email marketing set-up, social media integration, and a dedicated account manager that specializes in helping clients maximize their online presence. Additional services such as ecommerce, video production, ongoing SEO, and paid search campaigns are available with higher-end packages.
The services offered by bMighty2 are aimed at providing its clients with modular, scalable solutions that will enable them to start marketing on the Internet quickly and that can grow with
clients as they expand their business demands.
"Every business process we have, every go-to-market strategy we craft, everything we do is built around what motivates a small business owner and what keeps him or her up at night," says Stockman. "Our job is to understand marketing and digital technology in order to help small business owners struggling with both."
Although bMighty2 operates out of Asheville, North Carolina, the start-up is able to work with small businesses around the globe. The company website can be found at http://www.bmighty2.com; social media connections can be made through Facebook at http://www.facebook.com/bmighty2 and Twitter at @bmighty2.