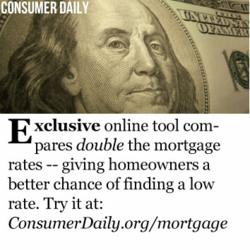 Palm Beach, FL (PRWEB) October 19, 2012
Consumer Daily publishes 30 year fixed mortgage refinance rates from 3.25%. These rates are considered low by many. Consumer Daily was able to find these rates by searching two large databases of lenders and banks. Homeowners may compare rates online at:
http://www.consumerdaily.org/mortgage/
With the continued low rates, homeowners should start to consider refinancing their homes in order to take advantage of potential savings. On a $100,000 mortgage over thirty years, a homeowner who refinances from a 4.5 percent rate down to 3.39 percent would save around $20,000 in interest, without any effort at all. This is basically free money that could be used towards home renovations, debt payments or even a vacation.
The low rates also offer homeowners an opportunity to make money. With a 30 year term, monthly payment obligations are reduced, which frees up cash flow for other investments. Consider a homeowner looking to refinance a $250,000 mortgage on a 15 year term versus a 30 year term. By entering a location, mortgage amount and term into Consumer Daily's mortgage comparison tool, an average rate of 3.4 percent and 2.8 percent were found for 15 and 30 year mortgages respectively:
On a 15 year mortgage, a homeowner would pay approximately $1700 monthly in mortgage payments. In contrast, refinancing on a 30 year fixed mortgage would only cost $1100 in monthly mortgage payments. While the total interest paid on the 30 year fixed mortgage is higher, it is likely that putting the saved monthly payments into good investments would outperform the 3.4 percent interest rate of the mortgage.
For interested consumers, finding the best mortgage rate is crucial to successfully refinancing a home. This can sometimes be difficult, as banks and lenders do not always clearly advertise their best rates. In the past, finding the lowest possible mortgage rate often entailed visiting individual banks and lenders, obtaining quotes, and then returning to bargain or discuss options. But now, homeowners looking to refinance can utilize online comparison tools, such as the one provided by Consumer Daily. The results are instantly displayed on screen in a user-friendly format.
Many other comparison tools are available, but only Consumer Daily uses two lender databases when searching for rates. This feature allows Consumer Daily to provide consumers with nearly double the number of available rates, ensuring consumers are provided with choice and flexibility.
Of course, it is impossible to predict where mortgage rates will move next. The Federal Reserve has publicly committed to keeping interest rates low to spur the economic recovery, but it is unclear how long this stimulus will last. With the tools that are available and rates for 30 year fixed mortgages close to historical lows, there may not be any better time than now for homeowners looking to refinance and take advantage of lower monthly payments. Current rates for refinancing can be found via Consumer Daily.