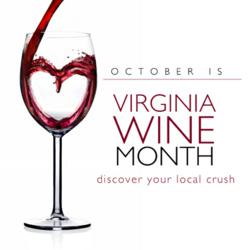 The Virginia Wine Month celebration with the fall harvest makes October a brilliant time to visit Virginia as 15 million acres of foliage burst into color.
Richmond, VA (PRWEB) September 21, 2012
October Virginia Wine Month is just around the corner, presenting the ideal time for wine lovers to visit Virginia and Discover Your Local Crush at more than 200 wineries statewide. 2012 marks the 24th annual Virginia Wine Month celebration, which coincides with the fall harvest and makes October a brilliant time to visit Virginia as 15 million acres of foliage burst into color. The statewide celebration includes special events at wineries, restaurants, hotels and wine bars as well as dozens of wine festivals found in each region of Virginia.
The Virginia wine industry has grown tremendously since the first October Virginia Wine Month in 1988, making the state a true Commonwealth of Wine. Today Virginia is home to more than 200 wineries and vineyards, seven American Viticultural Areas (AVAs), nearly two dozen wine trails and rates fifth in the nation for wine grape production. Just this year, Wine Enthusiast magazine named Virginia one of the 10 best wine travel destinations for 2012, noting the state's picturesque pastoral landscapes and affable winemakers set Virginia apart as an excellent wine destination on the East Coast.
The following is a sampling of wine festivals and events happening during October Virginia Wine Month, with more found at http://www.Virginia.org/winemonth/:
Fall Wine Festival & Sunset Tour at Mount Vernon Estate & Gardens- Oct. 5, 2012
Enjoy live blues and spectacular views of the Potomac River while sampling wine from 16 Virginia wineries during Mount Vernon's Fall Wine Festival & Sunset Tour. Visitors learn about the successes and failures of our Founding Father's wine endeavors, enjoy live blues music, meet "George and Martha Washington" on the Mansion's piazza and experience an evening tour of George Washington's home and wine cellar. Tickets are $35 per person. For more information, call (703) 780-2000 or visit mountvernon.org.
The 12th Annual Norton Wine and Bluegrass Festival- Chrysalis Vineyards - Middleburg - Oct. 6-7, 2012
This year's Norton Wine & Bluegrass Festival invites wine travelers to Chrysalis Vineyards, home to the world's largest grower of Norton, The Real American Grape!, to experience one of Northern Virginia's top wineries during the harvest season. The area's best bluegrass music, food from the local "BBQ King," hayrides and vineyard tours and a special nine-wine tasting, are among the weekend's highlights. Admission is $15 in advance and $20 at the door. For more information, call 540-687-8222 or visit chrysaliswine.com.
Fredericksburg Area Wine Festival- Fredericksburg - Oct. 6-7, 2012
The 22nd annual Fredericksburg Area Wine Festival features award-winning wines from eight Virginia wineries as well as local cuisine and beer from Blue and Gray Micro Brewery set against the scenic beauty of Rappahannock River. The family-friendly festival offers rides on Aubrey Treakle's Barrel Train and balloon art and face painting. Admission fee is $15 in advance at $20 at the gates. For more information, call 540-972-2749 or visit fredericksburgwine.com.
Taste of Culpeper- Culpeper - Oct. 7, 2012
Culpeper Renaissance's eighth annual "Taste of Culpeper - a wine, food and arts festival" showcases the best in Virginia wines, microbreweries and local cuisine. Fun and festivities are available for the entire family including take-home treasures from local artisans and crafters, live music, a moonbounce and an outdoor football lounge with two large-screen TVs. Tickets are $10 in advance and $15 at the gate with free admission for those 12 and under. For more information, visit culpeperdowntown.com.
Blackdog Wine & Classic Rock Festival- Chateau Mrrisette - Floyd - Oct. 13, 2012
Each October, the Chateau Morrisette Winery, located just off the scenic Blue Ridge Parkway, brings in wine and music lovers from all over the country for the Black Dog Wine & Music festival. The rock event features new bands, the winery's famous sangria and local cuisine and crafts. Admission is $25 and includes music, winery tour, tastings and a souvenir wine glass. For more information, call 540-593-2865 or visit thedogs.com.
Virginia Wine and Garlic Festival- Rebec Vineyards, Amherst - Oct. 13-14, 2012
The Virginia Wine and Garlic Festival embraces food, wine, live entertainment, arts, crafts and most importantly, garlic. The festival offers five stages filled with music and live entertainment, garlic contests, wine tastings from six different wineries, and a kid's zone with a petting zoo. Wine tasting tickets are $18 in advance and $25 at the gates. General admission is $14 in advance and $25 at the gates; children under 12 are free. For more information, call 434-946-5168 or visit rebecwinery.com.
AT&T Town Point Virginia Wine Festival- Norfolk - Oct. 20-21, 212
The 25th Annual AT&T Town Point Virginia Wine Festival showcases more than 200 of Virginia's wines and captures the elegant flavor and flair of the region. The festival offers wine tastings and live musical performances as well as gourmet foods and special wares for purchase. With all wine selections available for purchase by the glass or case, visitors are able to take home their favorite local crush. Guests can choose from a variety of ticket and package options with varying prices. For more information, visit festevents.org/mini-site/25th-annual-atandt-town-point-virginia-wine-festival.
Powhatan's Festival of the Grape- Powhatan - Oct. 27, 2012
Travelers will indulge the best of 25 Virginia wineries at the annual Festival of the Grape at Powhatan's Historic Courthouse Square, just a short drive from the cities of Richmond, Lynchburg, Charlottesville and Williamsburg. The family-friendly festival features tastings of Virginia's finest wines, delicious food, live music and entertainment and arts and crafts. Admission fee is $20 and includes a souvenir wine glass. For more information, call 804-598-2636 or visit powhatanwinefestival.com.
Louisa County Wine Festival- Mineral - Oct. 13, 2012
The second annual Louisa County Wine Festival, from White Walnut Vineyards, is the perfect way to spend a fall afternoon sampling vintages from new and long-established wineries, local food and enjoying live music and all-around fun! Taking place in downtown Mineral, home to Lake Anna, the second largest lake located entirely in the in the state of Virginia, the Louisa County Wine Festival allows guests to take a sample glass as they visit each winery and taste various vintages. There will also be a variety of crafters and artisans, as well as a dedicated children's activity area. General admission fee is $15 in advance and $20 at gate. For more information, call 540-967-9044 louisawinefestival.com
The Farm at Blenheim Vineyards- Charlottesville - Oct. 1-31, 2012
Visitors will experience an exclusive look at the Dave Matthews-owned Farm at Blenheim Vineyards. The property comprises acres of lush lawn overlooking the vineyards, a newly restored circa. 1864 house, historic chapel and more. Guests will be treated to a private tasting on the lawn or in the free-standing library built in the mid-1800s, a tour of the historic property and a glass of wine and gourmet boxed lunch or dinner. Good throughout the month of October, rates start at $40 per person with a minimum group size of four. Advance reservations are required and available by calling 434-962-4241. For more information, visit blenheimvineyards.com.
Wine Dinners at The Mimslyn Inn- Luray - Through Dec. 31, 2012; jazz trio Oct. 5, 2012
Known throughout the Shenandoah Valley for its "Vintage Southern Hospitality," The Mimslyn Inn offers a Virginia wine tasting experience unlike any other. Offering a comfortable and inviting atmosphere, guests are encouraged to bring their own wine straight from the tasting room. Virginia wine pairings are offered with each course for $15, and each week the menu and wine shifts to accommodate only fresh and local ingredients. On Friday, Oct. 5, a special jazz trio will play on the front porch allowing guests the ease of enjoying a wine dinner set to a delightful tune of jazz and million dollar views. Reservations are suggested and available by calling 800-296-5105 or visiting mimslyninn.com.
Love is at the heart of every Virginia vacation. Visit http://www.Virginia.org for more trip ideas or call 1-800-VISITVA for a free Virginia is for Lovers travel guide. Stay connected at facebook.com/VirginiaisforLovers or follow on Twitter at twitter.com/VisitVirginia.