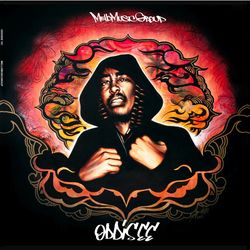 The concept is to bring back the amazing music & artwork that made the classic albums of the 1970's so memorable, only this time it's Hip-hop
Washington, DC (PRWEB) August 28, 2008
Hip-hop super-producer Oddisee has inked a deal to produce and record songs for two new projects with Mello Music Group. The first project is a double disc compilation titled "101" & "102" slated for release on CD & Vinyl in early November of this year. The second project is titled "Mental Liberation" and will be released in the first quarter of 2009.
"People are calling Oddisee the new Dilla of Hiphop," said G-13 Media spokesperson Gabriel Arteaga. "So these new projects are big news that a lot of people will be checking for."
Mello Music Group brought in a special team of artists to create a unique series of art for these projects that includes famed Los Angeles graffiti artist Mear One, HVW8 art collective member Gene Pendon, and Japanese legend Tokio. "The concept is to bring back the amazing music & artwork that made the classic albums of the 1970's so memorable, only this time it's Hip-hop," said company owner Michael Tolle, "I think people are getting tired of seeing their favorite musicians pretend to be models; people want artwork that trips them out as much as the music."
Oddisee, who has produced songs for such Hip-hop legends Kenn Starr & Talib Kweli, as well as Little Brother and worked for DJ Jazzy Jeff's "Touch of Jazz" studio, describes the "101" and "102" projects as introductions to what he has been doing in the past year. The album also features songs the famed producer made at last year's Red Bull Music Academy with Warp Record's Flying Lotus. Additional guests include Phonte Coleman, Kenn Starr, M.E.D. (Stones Throw), Georgia Anne Muldrow (Stones Throw), Dudley Perkins, and Black Milk (Fat Beats).
The two projects will be distributed internationally by Groove Attack, Fat Beats, and Ultra-Vybe.
About Mello Music Group:
Founded by educational entrepreneur Michael Tolle in 2007, Mello Music Group is an internationally distributed record label that promotes Hip-hop, Jazz, Space, Soul & fOnk.
"Sounds Beautiful Like the Truth"
mello music group
oddisee
###