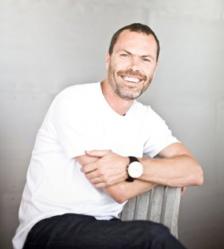 New York, NY (PRWEB) May 26, 2011
Razorfish, one of the world's largest digital agencies, has named Pierre Odendaal, 39, a Group Creative Director for its New York office. In his role, Odendaal will craft marketing solutions for agency clients such as AXE, Mercedes-Benz and Starwood Hotels.
"I could see Pierre's energy and creative spirit were contagious when I first met him years ago while working together in Paris," said Frederic Bonn, Executive Creative Director for Razorfish's east region. "I'm thrilled he has joined our team, and know his expertise will help us continue to meet our goal: delivering our clients engaging brand experiences through great creative ideas, smart technology, and relevant media and platforms."
Odendaal's work has been recognized by the most prestigious award shows in the advertising industry including Cannes Lions, Loerie Awards, Art Director's Club and the Webby's.
Prior to joining Razorfish, Odendaal served as the Executive Creative Director at Jupiter Drawing Room in South Africa. During his tenure, he spearheaded work for clients including Coca Cola, Converse and MTN Mobile. Previously, Odendaal worked at Ogilvy & Mather One and Leo Burnett.
Odendaal graduated with a Bachelor's degree in graphic design from Pretoria Technikon in South Africa.
About Razorfish
Razorfish creates experiences that build businesses. As one of the largest interactive marketing and technology companies in the world, Razorfish helps its clients build better brands by delivering business results through customer experiences. Razorfish combines the best thought leadership of the consulting world with the leading capabilities of the marketing services industry to support our clients' business needs, such as launching new products, repositioning a brand or participating in the social world. With a demonstrated commitment to innovation, Razorfish continues to cultivate our expertise in Social Influence Marketing, emerging media, creative design, analytics, technology and user experience. Razorfish has offices in markets across the United States, and in Australia, Brazil, China, France, Germany, Japan, Spain, Singapore and the United Kingdom. Clients include Carnival Cruise Lines, MillerCoors, Levi Strauss & Co., McDonald's and Starwood Hotels. With sister agencies Starcom MediaVest, ZenithOptimedia, Denuo and Digitas, Razorfish is part of Publicis Groupe's (Euronext Paris: FR0000130577) VivaKi, a global digital knowledge and resource center. Visit http://www.razorfish.com for more information. Follow Razorfish on Twitter at @razorfish.
###