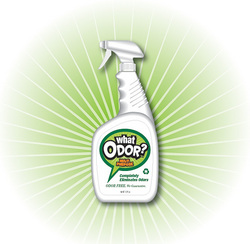 From day one What Odor?® was successful
Phoenix, AZ (PRWEB) March 3, 2009
For The Earth Corp is pleased to announce the launch of a massive marketing campaign for their flagship product, What Odor?®, featuring prominent television marketer Billy Mays.
Nelson Grist, Founder and CEO of For The Earth Corp, anxiously awaits the debut of his company's odor eliminator product into the market place. "From day one What Odor?® was successful," said Grist. "Our customers love it. They re-order What Odor?® and they continue to be amazed that it really works as well as claimed."
It isn't often that a company like What Odor?® lands one of North America's best-known television personalities for selling on television.
"Billy Mays has the ability to grab an audience's attention, and keep it," says Grist. "His reputation for promoting only the most reliable products makes him the perfect pitchman for What Odor?®"
Billy Mays is an industry leader in product promotion. His notorious "pitch" style of enthusiastically shouting, his distinctive beard, and always wearing a blue shirt, has made him the most sought-after spokesman in television. Mays is the CEO and founder of Mays Promotions, Inc., based in Odessa, Florida.
"Billy is recognized both nationally and internationally, but that isn't the only reason we chose him as our spokesman," explains Grist. "It's the fact that Mays personally uses and stands behind the products he represents."
What Odor?® commercials featuring Billy Mays are set to begin airing on national television March 2, 2009 and can also be found on the popular video sharing website, YouTube®.
About For The Earth Corp:
For The Earth Corp, established by Nelson Grist, is focused on becoming an industry leader in environmentally friendly and biodegradable products. With over 30 years of combined experience in product development, For The Earth Corp's management team and staff are committed to providing consumers with effective and sustainable solutions for humans, animals, and the planet Earth.
###