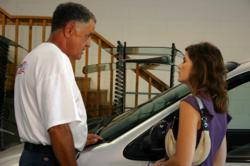 All aftermarket windshields sold in the U.S. are required by law to meet minimum safety standards, but not quality controls.
Chicago, IL (PRWEB) March 22, 2012
A new rule from the National Highway Traffic Safety Administration requires automakers to reduce the number of ejections in rollover crashes, but what if a repair company doesn't follow those standards?
According to government statistics, rollovers are responsible for a third of all crash deaths, and half of the people killed in these accidents are ejected. When a car is built, its windshield is designed to prevent these deadly ejections. So while it may be tempting to get a windshield repaired for as little as possible, cheap repairs may actually end up costing more in the long run.
Some shops will lure customers in with the promise of waiving their deductibles, but there may be a trade between cost and quality since an insurance company will most likely have already negotiated the lowest price possible for auto glass repairs. Between the materials and equipment needed for repairs, auto glass shops operate on small profit margins already, so if they agree to waive a deductible, that cost has to be made up somewhere else. Though it may be less expensive to work with a company that waives deductibles or uses aftermarket products, experts say the benefits of Original Equipment Manufactured (OEM) windshields and urethanes are well worth the price. "There are differences not only in the process of how the glass is made, but there are differences in the glass itself," said Bill George, the director of marketing for auto glass manufacturer Pilkington NSG.
OEM glass manufacturers use a special process that helps block UV rays, so the vehicle's cabin won't heat up as easily, which cuts down air conditioning costs. When a windshield fits correctly, it reduces water leaks and air noise. Since OEM windshields are made for each vehicle, the wiper blades will have a perfect surface to glide across in tough conditions, increasing the driver's visibility and safety. George said the right fit is an essential component of safety. "All aftermarket windshields sold in the U.S. are required by law to meet minimum safety standards, but not quality controls. O.E. quality and performance specifications are much higher than generic glass," he said. To prevent a dangerous ejection in a crash, all drivers should seek out auto glass shops that use OEM glass for their windshield replacements, said George. "It is what they deserve, what they are paying for and what they believe they are getting," he said.
About Glass America
Glass America is one of the largest independently-owned automobile glass replacement and repair companies in the country. Founded in 1999 and headquartered in Chicago, the company operates 73 service centers in 21 states under the names Glass America and Auto Glass Service. They offer a complete line of auto glass repair and replacement services for commercial and passenger vehicles with both drive-in and mobile services. All windshield installations meet the Auto Glass Replacement Safety Standards (AGRSS), have a one hour safe drive away time, and a national lifetime warranty. In contrast to many companies, Glass America only buys glass from OEM (original equipment manufactured) suppliers to ensure the perfect fit, every time. For more information, please visit http://www.glassusa.com or call 1-800-634-5623.