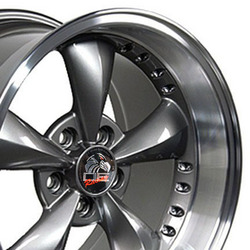 We are willing to do more for less. It's very common for our customers to ask if our pricing is for one wheel or a complete set of four.
Sarasota, FL (PRWEB) July 13, 2010
OE Wheels LLC is operated out of Sarasota Florida on the west coast which places them right on the Gulf of Mexico. This has provided OE Wheels LLC with a front row seat to the BP oil spill. The economic impact on tourism has been well reported, but the effects are widespread. Somewhat overlooked but also proving to be detrimental are the delays, in receiving goods into port, caused by freighters contaminated with oil. "We launched our new website, oewheelsllc.com, before the Gulf oil spill, how is that for timing? I have seen hard times before and we'll get through it", says James Moore, the owner of OE Wheels LLC.
OE Wheels LLC launched a website, http://www.oewheelsllc.com, before the oil spill. The problems with the BP oil spill began to affect OE Wheels at the distributorship level when they failed to satisfy order after order, due to the delays in shipping. The ports are always full of delays, add the fact that freighters covered in oil are not allowed into port, and for a time, there was a lengthy delay in figuring out new delivery routes. No one knew the leak would last as long as it has. Shipping solutions had taken weeks to come by. The solution for OE Wheels LLC was to have the freighters take an alternate route.
One shipping container holds about 700 wheels. When the BP Gulf oil spill began to affect OE Wheels LLC, there we're over 20 containers delayed. With approximately 4000 visitors per day going to the newly launched website there were many sales. Not knowing how long the delays would be, OE Wheels LLC kept doing what they do best, selling more wheels. When the wheels were not arriving, they could not satisfy the orders, customers got a little impatient, many demanded refunds. Their exceptional reputation was in question. Known for top shelf customer service, and quick delivery, this was a tough blow to take.
Fortunately OE Wheels LLC was able find agreeable solutions for the majority of their customers, and the alternate shipping route worked out.
For over a decade, OE Wheel Distributors, LLC has existed as a wholesaler and distributor of custom replica wheels. This group of highly experienced professionals is best known in the automotive industry for state of the art engineering and design as well as rock bottom pricing. According to Lance Bullock the Operations Manager, "We are willing to do more for less. It's very common for our customers to ask if our pricing is for one wheel or a complete set of four." Consumers have been conditioned by exposure to retail pricing through dealerships and local retailers. They might expect to pay over $400 dollars per wheel, when a set of 4 wheels can be purchased for that price at OE Wheels LLC. When a company like OE Wheels LLC drops their pricing, to a quarter of what it could be, people deserve to know.
OEWheelsLLC.com is able to offer price-conscious consumers fine quality wheels at substantial discounts by manufacturing the wheels themselves, and by offering some of the lowest margins in the industry. With a larger wheel collection than most wheel distributors, including both original equipment wheels and custom replica wheels, OE Wheels LLC has a wheel to match any taste or budget. Wheels are available in a variety of styles, including Wheels for Mustang ®, Wheels for Camaro ®, Wheels for Corvette®, Wheels for Mercedes Benz®, Wheels for Audi® and Wheels for Lexus®.
To find out more about OE Wheel LLC go to http://www.oewheelsllc.com or call 1-866-273-3651
###