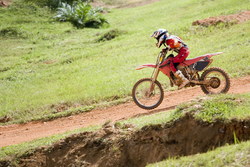 Off-road bikes are often less of a risk than road bikes, because of the people who ride them
(PRWeb UK) August 16, 2009
More and more bikers, fed up with weaving in and out of traffic at the weekend or getting held up at roundabouts by Sunday drivers, are looking for something more exciting. Lots of them are finding that off-road biking is the way to go. There are cross country courses and events throughout the UK for everyone from off-road novices to trail-hardened riders.
But while there are bikes to suit all tastes, speeds and thrust, many off-road bike owners are finding it hard to get insurance once they've got their bikes. A lot of insurance companies see bikes designed for off-road use as very risky. However Bikesure, the specialist motorcycle division of Adrian Flux Insurance Services, has introduced an Enduro Bike Insurance scheme designed to offer cover for all types of off-road bikes while being ridden on the public highway.
"Off-road bikes are often less of a risk than road bikes, because of the people who ride them," explains Robert Balls of Bikesure. "They are usually experienced riders who are more careful and know what they are doing. Once we realised that, it was simple to arrange cover provided the bike is registered for road use."
The Bikesure website, http://www.bikesure.co.uk, has an online quote system that compares insurance quotes from a panel of underwriters so bikers can choose the one that is best for them and then ring Bikesure to discuss finer details with a member of staff. Alternatively, by clicking the free Callback button, bikers can arrange for Bikesure to ring them, either straightaway or at a convenient time.
Most Bikesure staff are biking fanatics as well as experienced insurance executives, so they are able check out the best deal, applying their own judgement and understanding of the biking scene to get the lowest possible price for the cover that is ideally suited to a biker's individual needs.
Many off-road bikers will also have a main road bike, so Bikesure offers a multi-bike insurance policy with a single low premium to cover all the bikes, saving time, money and paperwork. Other options include free 'ride your mates' bikes' cover on some comprehensive policies, modifications and customisations cover, optional personal injury cover and optional cover for helmets, leathers and protective clothing.
"We also give discounts for being a member of a recognised owner's club, for keeping your off-roader in a garage and for having previous off-road biking experience - among other things," says Rob Balls. "So it really pays to get in touch with us before taking out a policy so you can be sure you've taken advantage of all the discounts on offer."
Bikesure is 100% British owned and based. It has a huge range of specialist policies for the motorcycle enthusiast, including cheap bike insurance schemes for performance and custom bikes, scooters, trikes, quads and bug riders. For details freephone the Bikesure quote line on 0800 089 2000 or email the company at bikesure@adrianflux.co.uk. For more information visit http://www.bikesure.co.uk
Off-road bikes.doc – Aug-09
Press Enquiries:
Toni Turner or Alison Haynes at The Publicity Works
Tel: 01263 761000 Email: bikesure (at) publicityworks (dot) biz
Robert Balls at Bikesure Insurance Services: 08700 771377
Press information, digital files, photos etc., available on request from bikesure (at) publicityworks (dot) biz
###