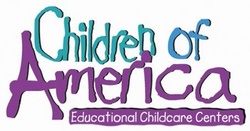 Children of America has signed 30 leases this year which will grant us entrance into many new markets including Georgia, Illinois, Indiana, Michigan, North Carolina, Ohio and Wisconsin in 2009
DELRAY BEACH, Fla. (PRWEB) December 5, 2008
"We assigned very specific financial and expansion goals this year that we not only reached, but far surpassed," said Children of America President and CEO Thad Pryor. "Children of America is well-positioned in the current economic climate to maintain steady growth throughout the remainder of this year and into next as we continue to sign and execute new leases."
On target to become a nationwide, parent-recommended childcare service provider in the next three years, Children of America is dedicated to the educational value it provides all of its students and continues to focus on earning accreditation from the National Association of the Education of Young Children (NAEYC). In addition, the childcare service provider continually reviews and updates its proprietary key-age curriculums to ensure that all children, infants to 12-year-olds, have the best opportunity for developmental growth and learning.
"Children of America has signed 30 leases this year which will grant us entrance into many new markets including Georgia, Illinois, Indiana, Michigan, North Carolina, Ohio and Wisconsin in 2009," states Jim Perretty, company executive vice president and COO. "We will continue to aggressively pursue new lease options to leverage our long-term growth plans."
Children of America is slated to open three additional locations in East Brunswick, N.J., Oakhurst, N.J. and Sterling, Va. in early January 2009. With the addition of these new locations, Children of America will be more than a third of the way to its goal of becoming a national, 75-unit family of childcare centers in the next three years.
About Children of America
Founded in 1999, Florida-based Children of America is a leading provider of high-quality childcare and after-school programs with 23 centers in Delaware, Maryland, New Jersey, New York, Pennsylvania and Virginia and more than 500 employees. For more information about Children of America, visit http://www.ChildrenOfAmerica.com.