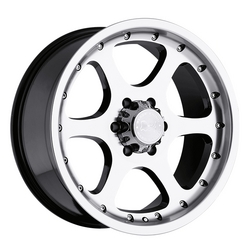 Black Rhino wheels are well built, tough looking wheels designed with the off road truck and SUV enthusiast in mind
Huntington Beach, CA (Vocus) June 4, 2010
Named after the renowned off-road recreation park Ocotillo Wells in Southern California, the new Ocotillo wheel by Black Rhino Wheels for Trucks and SUV's is a high performance, tough, thick skin alloy wheel built to carry heaving loads. The Ocotillo is a classic six-spoke truck wheel with stainless steel rivets that highlight the smooth rolling lip. The wheel has a clean yet aggressive look.
"Black Rhino wheels are well built, tough looking wheels designed with the off road truck and SUV enthusiast in mind," says Terence Scheckter, President of Black Rhino Wheels. "The Ocotillo truck wheel was designed to enhance the look of stock or lifted trucks and is offered in two finishes - solid Matte Black and Gloss Black with a Machined Cut Face."
These wheels are built for two types of vehicles - the off road truck or SUV with extreme lift and the more street friendly stock or mildly lifted vehicle. The wheels are built with a range of offsets for either vehicle type. Ocotillo wheels give an aggressive stance to those off road trucks with an extreme lift, and enhance the look of stock or mildly lifted trucks and SUV's, setting them apart from other vehicles.
Ocotillo off road truck and SUV Wheels are available in 17 inch, 18 inch, and 20 inch sizes. The wheels are designed with positive and negative offsets, ranging from +12mm, 00mm, -12mm. There are a variety of fitments available, including 5x114.3, 5x127, 5x139.7, 5x150, 6x135 and 6x139.
"Each wheel is engineered to carry the heavy loads often associated with off road Trucks and SUV's," says Terence Scheckter. As with all Black Rhino wheels, the Ocotillo wheels are made to extremely strict manufacturing standards. Black Rhino Wheels are designed to be hub-centric or are supplied with centering rings to ensure a smooth vibration free ride. They embody more than 30 years of design experience.
Black Rhino aftermarket wheels for SUV's and off –road trucks offers a broad range of offsets, styles and finishes, including black wheels, matte black wheels, gloss black wheels, gunmetal with machine cut face and lip wheels, gloss black with machine cut face wheels, black with machine cut lip wheels, chrome wheels, hypersilver wheels, silver wheels and matte black with matte machine lip wheels.
Pricing ranges from $190.00 - $290.00 for painted finishes.
For a dealer near you call: 888-789-9064, or visit Black Rhino on the web at http://www.blackrhinowheels.com.
###