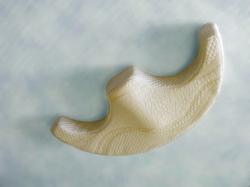 Women have come to us with stories of having to be on their backs for months.
Agoura Hills, CA (PRWEB) August 17, 2011
Comfort Quest, Inc., the manufacturer of the Side Sleeper Pillow designed to help women with pain management and sleep well after all types of chest surgery, reconfirmed its commitment toward continued development of highly effective products which help women recover from voluntary and involuntary chest surgeries.
The Side Sleeper Pillow was designed specifically for surgical recovery or breast pain relief. Most women experience breast pain after several types of chest surgery. The recovery pillow will help patients after surgeries such as Augmentation, Cancer, Open Heart, Mastectomy, or Lumpectomy.
Comfort Quest recently announced it was dedicating a large part of its marketing budget toward Mastectomy Fitters and their patients. Mastectomy Fitters work with breast cancer patients, helping them with products and services which help them through the long and painful recovery process. The CQ Side Sleeper Pillow helps women get off their backs and gives them the mobility and pain management which can dramatically improve their lives.
Women who have undergone this type of surgery have been ordered by their surgeons to stay on their backs during recovery.
One of the most common questions asked by women in the days after chest surgery is, "When can I get off my back and sleep on my side or stomach?" Surgeons had no answer for this question. Comfort Quest took the initiative to provide fitters, doctors and patients with a breast pillow for post surgery pain management which addresses this very issue of getting women off their backs.
"Women have come to us with stories of having to be on their backs for months," said Ben Kass President of Comfort Quest, Inc. "The Side Sleeper Pillow has been very effective in helping them sleep in more comfortable positions and manage their pain.
"I cannot imagine the difficulty, hardship, and frustration of always sleeping on your back. Our pillow takes that discomfort away immediately. Many of our customers have confirmed this."
The breast support pillow has a web and retail price of $59.97. Comfort Quest already has a network of plastic surgeons in the United States and Canada which will supply their patients with the breast pillows or direct them to Comfort Quest's web site at http://www.mycomfortquest.com.
Comfort Quest, Inc is a southern California based corporation located in Agoura Hills. The company intends to continue to develop post surgery products for women. The Side Sleeper Pillow is the company's first product in this category.
For additional information:
Ben Kass (818) 665-2012
President
ben(at)mycomfortquest(dot)com
http://www.mycomfortquest.com
Copyright© 2011 Comfort Quest, Inc.
###