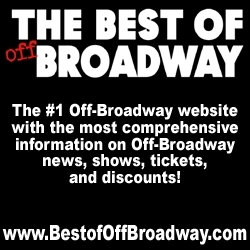 Off-Broadway is one of New York City's most unique and intimate live entertainment options, featuring plays, musicals, and interactive shows that can't be seen anywhere but Off-Broadway
New York, NY (PRWEB) July 16, 2008
BestOfOffBroadway.com, the most complete website for information on all Off-Broadway shows, from STOMP to Blue Man Group and Forbidden Broadway to I Love You, You're Perfect Now Change, announced today the addition of an exclusive discount area to the website.
In addition to information on how to get tickets, directions to the theaters, group sales discounts, info on nearby restaurants and more, visitors to BestOfOffBroadway.com can now access a discount area featuring hundreds of dollars in savings on some of Off-Broadway's most popular shows including Altar Boyz, The Awesome 80s Prom, and My First Time.
"Off-Broadway is one of New York City's most unique and intimate live entertainment options, featuring plays, musicals, and interactive shows that can't be seen anywhere but Off-Broadway," says founder Ken Davenport. ''In today's difficult economic climate, we know people are looking to save wherever they can, so we thought it was important to offer them the chance to get the best Off-Broadway shows at the best prices.''
In addition to these exclusive discount Off-Broadway theater ticket offers, BestOfOffBroadway.com also announced a brand new feature on the site called ''Look Who's Off-Broadway" which features a prominent celebrity performer currently working in an Off-Broadway show.
This week's prominent Off-Broadway celebrities are celebrated comedian Jackie Mason, currently performing in his one-man show Off-Broadway, and Neil Haskell, now appearing in the hit musical Altar Boyz.
In his profile, Jackie answers questions about everything from how he chooses his material to how he made the transition from Rabbi to comedian.
Neil Haskell, currently playing Luke in Off-Broadway's Altar Boyz, tells about his time spent on Fox's ''So You Think You Can Dance" and about why he loves performing Off-Broadway.
With the addition of this celebrity profile and the theater ticket discount area, BestOfOffBroadway.com continues to be the best destination for one-stop shopping for the Off-Broadway theatergoer.
''A trip to New York City isn't complete without an Off-Broadway show. No one should miss out on what Off-Broadway has to offer,'' continued Davenport. ''And now, with our discount area, no one has to.''
MORE ABOUT KEN DAVENPORT
Recently hailed as the ''P.T. Barnum of Off-Broadway" in the New York Times, featured on a national commercial for the iPhone, and named one of Crain's Forty Under 40, Ken is the only independent producer to have three shows running simultaneously Off-Broadway: Altar Boyz, The Awesome 80s Prom and My First Time. Ken is a producer of the musical 13 which opens on Broadway this fall. He is currently adapting the novel and film Somewhere in Time into a Broadway musical as well as filming a documentary on one of the top unsigned rock bands in the country, Red Wanting Blue.
Ken runs a number of theatrical websites including the new social networking site, http://www.BroadwaySpace.com and http://www.DidHeLikeIt.com. For more information, visit http://www.DavenportTheatrical.com or Ken's blog at http://www.TheProducersPerspective.com.
###