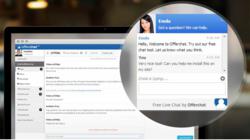 Miami, FL (PRWEB) June 21, 2013
Offerchat, a web-based online live chat tool that allows one-to-one chats between site owners and visitors, is taking on a marketing challenge – promoting their live chat support tool to thousands of eCommerce websites on the internet. The sole focus of the marketing campaign is to get online shop owners to realize the importance of personalizing the buying experience of their customers in all levels of the purchasing process, which only a live chat support can accomplish.
With the online commerce growing at such a rapid rate, store-owners need to step up and acquire the best tools they can get their hands on not only to support their website and sell products but also to improve customer experience without necessarily creating a huge dent on their budget. That is where Offerchat comes in with their no cost full-featured chat widget - easy to install and manage minus-developers.
With Offerchat, online store-owners now has a convenient costless way to engage new and existing clients while providing a flexible and open communication that facilitates personalized buying experience for shoppers. Live chat offers the following benefits:

Provide instant assistance on shoppers' pre-selection process
Fine tune shoppers' buying pathway leading into a successful sale
Offer personalized and highly-relevant offers based on visitor behavior
Prevent visitors from leaving the site by providing relevant promotional incentives
Facilitate new product development opportunities based on customer feedback
Offerchat online live chat is a stable real-time communication tool that can serve as an asset to any eCommerce website providing them a competitive edge in the business. Instant messaging through live chat can potentially rake in profits by reducing shopping-cart abandonment while increasing customer satisfaction. Having a live chat tool is akin to having a virtual assistant that can help shoppers from product selection to the ordering process without leaving the page they are currently browsing or breaking connectivity with the virtual salesperson online.
Adding live chat powered by Offerchat to an eCommerce website can be accomplished in as little as a few minutes – copy and paste code, insert between two head tags and voila! sellers or their hired customer support assistant can now initiate or answer chats of visitors on the website real time. Embracing social technologies such as live chat in the online shopping process personalizes the buying experience that will attract more buyers to any eCommerce business.
The Offerchat live chat is equipped with both a customizable chat widget that allows business website owners to change the look and feel of the chat widget to match their site's appearance and a web-based client chat panel that is easy to use where site owners and chat agents can monitor, track and respond to customer chats. Offerchat live chat customer support tool can be obtained at no charge at http://www.offerchat.com
About
Offerchat is a free premium live chat for websites specifically designed to help online businesses increase their conversions and sales. It's easy to add chat widget with full features that's 100% free. Offerchat is brewed to perfection at Click Labs, Inc. a company based in Cebu City, Philippines. The company specializes in driving search marketing and social media traffic, social web app development and conversion optimization. Each product or service specifically helps small/medium website owners increase online visibility and improve online sales.