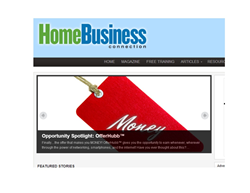 Finally…the offer that makes you money. OfferHubb™ gives you the opportunity to earn whenever, wherever through the power of networking, smartphones, and the internet.
Irvine, California (PRWEB) May 31, 2013
Never miss a sale is a motto that for most people, our current economy has forced them to live by. OfferHubb, a newly launched Online Marketing Platform understands this and is eager to serve both the Customers who love deals and the Merchants who want to increase sales.
Home Based Business Connection, always searching for companies that offer innovative ways for people to generate income in a home based environment, featured OfferHubb™ and its unique business program in their popular magazine.
OfferHubb empowers Affiliates, giving them the tools they need to take advantage of the fast growing $100 billion dollar local advertising industry. Affiliates are equipped with easy to use technology that unites Merchants and Customers, and receive financial benefits for bringing the two together.
To explore more about the OfferHubb program connect with http://www.OfferHubb.net.
OfferHubb is now launched nationally with Affiliates in all 50 states.