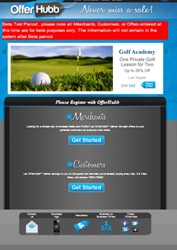 Our Affiliates have show great patience which will now be fully rewarded. Everything will be live in days and the industry will never be the same!
San Jose, CA (PRWEB) May 16, 2013
After many months of development and fine tuning, the OfferHubb™ mobile advertising platform has been opened to final testing from the company's thousands of sales affiliates. Both OfferHubb.com and the iPhone and Android mobile apps are being unveiled and will be launching live with merchants and customers nationwide within days.
A combination of a cutting-edge mobile advertising platform along with lucrative business model that has drawn thousands of sales affiliate nationwide, OfferHubb™ is poised to stake its claim in the fast growing local advertising industry, which Forbes pegs at $100 billion annually.
Unlike traditional advertising methods, OfferHubb™ puts merchants in total control of their own business and allows them to modify their offers in real time, to target exactly the right customer at exactly the right time, and to deliver offers very likely to be accepted. By allowing advertisers to use hyperlocal advertising targeting through the company's Instant Target Technology, even smaller businesses can compete and win in the battle to find customers in their own backyard.
OfferHubb™ is a unique company which provides a cost effective way for businesses to increase sales, a simple and free way for customers to save on everyday purchases, and an outstanding opportunity for Affiliates to earn by bringing the two together. The company combines cutting-edge technology with best in class support and has already attracted thousands of sales affiliates during the prelaunch phase.
For more details on the company refer to http://www.OfferHubb.net and to get ready to start saving on everyday purchases, visit http://www.OfferHubb.com