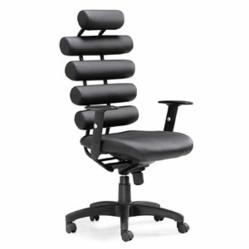 The most important quality to look for in an office chair is adjustable back support. It allows to fine tune the shape of the chair to the shape of the spine, providing maximum support for the back no matter what the natural posture.
(PRWEB) August 13, 2012
HomeThangs.com – the Home Improvement Super Store has made their goal to deliver the right product to the consumer, with that in mind, shopping and home design tips, as well as special product selections are being introduced.
Choosing the right office chair isn't always easy. Everyone is different - different height, weight, posture, work habits. The only thing that everyone in the market for a comfy, sturdy, ergonomic desk chair have in common is that they spend a decent portion of their time sitting. Whether looking for something simple or a big fancy boss chair, the most important thing is to be able to tailor it to the shape of the body.
1. Adjustable Height
It is not recommended to buy a desk chair that doesn't have an adjustable height. Unless one found a magical mythical throne that's exactly the right height to sit with feet flat on the ground and legs at a 90 degree angle, one needs a chair that has at least a couple inches of wiggle room. Chairs with a smooth, hydraulic glide like the Bungie High Back Office Chair by EuroStyle for example, are something to look for.
2. Adjustable Arms
Chair arms – something that depends on personal preference. Some people like high arms to rest their forearms on while they type, others prefer lower ones that don't obstruct arm movements, and still others would rather have a chair without any arms at all. When looking for a chair without arms, that's easy enough to see, but if one is picky about the elbow room, an office chair with fully adjustable arm rests, like the Quincy Office Chair by Eurostyle is the right choice. If using arm rests a lot, it's better to opt for an office chair with arms made of a soft, smooth material that won't rub uncomfortably against or stick to the arms. For those with a larger or smaller frame, its important to choose an office chair with arms that won't constrict or make one feel like a little kid, and it is important to have enough room to sit comfortably all the way back in the chair without either too much of the legs hanging off the end, or with the edge of the chair pressed right up against the backs of the knees.
3. Adjustable Back Support
The most important quality to look for in an office chair is adjustable back support. It allows to fine tune the shape of the chair to the shape of the spine, providing maximum support for the back no matter what the natural posture. While many chairs are theoretically curved to fit the shape of a human back, the way one sits and the shape of one's back might not be exactly what a manufacturer has in mind. That leads not only to moderate discomfort, but can actually result in chronic back pain or even injury to the back muscles. So, it is recommended to look for an office chair that has, at the very least, adjustable lumbar (lower back) support, like Marlin Mesh Office Chair by EuroStyle for example. A really basic model can be purchased for about $200, and will provide the support needed.
4. Adjsutable Tilt
Studies have shown that sitting at a slightly reclined angle can actually help improve posture and reduce back pain by relieving pressure on the lower back. Chairs like Lider Plus Office Chair by Zuo make it easy to adjust the angle of your the to fit any specific needs, even if it's a very slight change in incline. Office chairs that have an adjustable tilt mechanism can work equally well for people who tend to lean way back in their chairs to talk on their phone and people who tend to hunch over their keyboards.
5. Ergonomic
Ergonomic is really just a buzzword. It's a whole industry about making things that maximize productivity and shape various things to work well with the human body. But, ultimately, it just means comfortable. There are also about half a million studies coming out about how awful sitting down all day is for the human body. Unfortunately for the average American, there's not a whole lot to do about it. So it might be worth trying out an "active" ergonomic chair - an exercise ball chair, a chair on rockers that force one to keep balance, or a kneeling chair like Harold Knee Chair by EuroStyle that helps naturally improve posture and keeps muscles working at the same time.
6. Material
The material of the chair overall is important both to the aesthetic of the office chair and to its comfort. High backed leather chairs are the iconic boss chair, and have a soft, smooth feeling to them, but tend to retain heat. Cloth chairs breathe better, but have a slightly rougher feel to them. Those shopping for ergonomic office chairs are likely to run across a few weirder materials, like the rubber bungee chair, or a springy-yet-supportive mesh backing like that on the Analog Lime Office Chair by Zuo (a less expensive alternative to expensive adjustable lumbar support chairs).
HomeThangs.com is not only a home improvement superstore, it also provides expert design tips and a comprehensive shopping guide, taking the ideas from professional interior designers, and offering tips to the consumers on how to pick the products to best suit their needs.