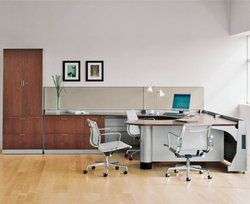 Miami Beach, FL (Vocus) October 25, 2010
Office cubicles and systems furniture installation company Corporate Design Choice re-launches their new website. Corporate Design Choice provides its service in systems furniture assembly and installation to all of South Florida. With more than two decades of experience in manufacturing and installing office furniture, and customizing office spaces, they have deep roots in the commercial and business furniture industry in South Florida, and have been recognized as the market leader. Corporate Design choice has had experience in customizing the office space of start-up companies on a small scale, and working with interior furnishing projects of corporations in the Fortune 500. For those business owners looking to acquire new office furniture Miami, this would be the best choice.
The new website consists of an updated modern contemporary look, and feel, and includes multiply new features which allow visitors quicker access to what they want. A new customized office furniture search engine has installed, as well and the ability to contact their sale department faster. Their new interface has already received recognition and honr in Doral, Kendall, and throughout South Florida for the easy if use for their clients.
The company provides a horde of services pertaining to systems furniture – space planning and design, order and furniture management, delivery and installation, inventory management, and maintenance. Whether it is for a new office design or for a relocation of office furniture, the motto of Corporate Design Choice is to provide a great working environment. Right from assessing the space requirements of an office space, planning the space, and deciding the best possible matrix arrangement, they provide services that involve order and lead time management and delivery. They pride themselves in stating that they have the best customer service in the market – before, during and after the installation.
Corporate Design Choice realizes that the primary entity to be considered before choosing the right furniture for an office complex is the availability of space. While the off-the-shelf furniture can be accommodated in larger spaces, smaller spaces require that the furniture be customized. Corporate Design Choice stands out from the competitors in the market in the fact that it custom-designs the office cubicles and desks for each individual project if the requirement arises. Availability of funds is a major factor in deciding the furniture – Corporate Design Choice has a wide range of furniture from the expensive Herman Miller office desks to relatively lower end office chairs.
A congenial office space is essential not only for a rich and aesthetic look, but also for enhancing the morale of the employees; the determinants of a good working environment are the business furniture that it contains. A person spends most of the week sitting in his office cubicle than any other space; the productivity of an employee depends on his feelings towards the workspace that he owns.
Corporate Design Choice is well aware of this fact, and incorporates certain ergonomic elements in the office space which are bound to improve the geniality of the atmosphere – live plants, Feng Shui techniques. On the same lines as ergonomics of office space is the comfort of systems furniture – Corporate Design Choice emphasizes on the importance of comfort as a parameter that affects productivity. It is a simple fact that physical comfort lets the employees work in absolute tranquility – the most vital piece of furniture is the office chair which should offer comfort and versatility.
With Corporate Design Choice, your furniture does not have to be limited to heavy, brown couches and the conventional computer chairs and office desks that you see in most offices. No longer do the office desks have to have a wooden top. The commercial furniture in your office reflects the efficiency of your whole company. According to your necessities and ideologies, your office can be furnished with wood, metal or glass furniture and suitable office cubicles.
In conclusion, there can be no better choice than Corporate Design Choice when it comes to acquiring office furniture Miami. With their best-of-the-breed customer service and superior project management, you can be assured that your business complex is in the hands of the best.
# # #