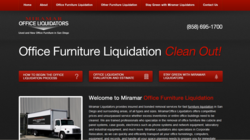 San Diego, CA (PRWEB) April 20, 2011
At their office furniture liquidation location in San Diego, Miramar Office Furniture is announcing the launch of an innovative new website dedicated to their furniture liquidation services. While the original website for Miramar Office Furniture concentrated on the range of products and services provided by the company, owner Jay Campbell says the new website focuses specifically on the niche market of office liquidation to provide online visitors with a comprehensive overview of the services they specialize in.
In collaboration with San Diego website design firm Rosemont Media, Campbell and the Miramar Office Liquidators team have created a user-friendly, easy-to-navigate network of information concerning the liquidation business, including detailed descriptions of all services offered, online submission forms to receive a free estimate, client reviews, and tips on how to stay environmentally-conscious when liquidating office supplies and furniture.
About Miramar Liquidators
Miramar Office Liquidators is the sister company of Miramar Office Furniture in San Diego. The difference lies in the services provided, as owner Jay Campbell says the liquidation company is specially equipped to handle all the essential services for relocating a business or simply liquidating any amount of a business' inventory and equipment. Campbell and the Miramar Office team rely on over 15 years of experience in the office furniture business, and serve all of Southern California. They specialize in large projects and last-minute business liquidations, and provide professional clean-out and turn-key services as well.
Miramar Liquidators is located at 9586 Distribution Ave. Ste. A in San Diego, CA 92121, and can be reached at (858) 695-1700, or found online at http://www.miramarliquidators.com/.
###