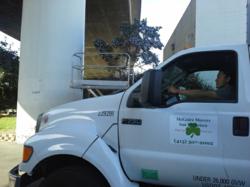 The more prepared your office or business is for your move, the less time you will spend moving, and the more cost efficient your move will be.
San Francisco, California (PRWEB) April 01, 2013
Moving can be daunting, but moving a business or office can be even more stressful. However, preparing and organizing for your move can help to ensure that it goes as smoothly and easily as possible. Sean McGuire of McGuire Movers shares, "It's impossible to plan too far ahead. Your business is losing money when it's not being productive while you are moving. The more prepared your office or business is for your move, the less time you will spend moving, and the more cost efficient your move will be."
To help reduce the downtime during an office move, the experts at McGuire Movers, a moving company serving the San Francisco Bay Area and beyond, have provided the following tips to help businesses efficiently move their offices.
1. Appoint a Person to be the Moving Coordinator/Organizer
This person will be responsible for the entire process of the move, from contacting the movers to planning the logistics throughout the entire move.
2. Make a Moving Checklist
In this list, make sure to check that desks are empty; file cabinet doors are closed and/or locked; computer equipment and other electronics are disconnected; and items hanging on walls are taken down.
3. Establish a Packing Schedule
Determine what can be packed in advance and what areas should be packed last.
4. Get Rid of Old Furniture and Equipment
Be sure to label any equipment, furniture or other items that you do not want or need with "Do Not Move" labels. This will eliminate unnecessary expense.
5. Familiarize Yourself with the New Location
Take measurements of the new rooms. Note the differences in the dimensions to ensure that your desks and other office furniture will fit in the new space.
6. Decide Where to Place Office Equipment
Decide where desks, file cabinets, electronic equipment, other office furniture and boxes will be placed at the new location. Then, you can label each piece-- including packed boxes--with colored labels to identify what furniture or boxes go in which office, room or space at the new location. To make it easier for everyone, including the moving company, place the labels in a few spots on each item or box where they are very easily visible.
These tips can help businesses make a smooth transition from their old office to their new one. Depending on the size of the office, this move can be scheduled over a weekend to reduce any possible downtime for the business. For more information about how to best move your office, contact the moving professionals at McGuire Movers.
McGuire Movers can get an office moved to its new location professionally, safely and efficiently. With over 15 years of experience in the moving and storage business, McGuire Movers has the right expertise to understand the needs of different offices and their unique requirements when moving. To learn more about the moving services offered by McGuire Movers, visit http://www.mcguiremovers.com or call (415)307-2002.
About McGuire Movers
With a reputation as one of the most efficient San Francisco Bay Area moving companies, McGuire Movers offers complete and customized residential and office moving services, including packing, unpacking, moving boxes and supplies, and more.
They have the right experience and the proper equipment to make sure your move goes as smoothly and as easily as possible. They are full service residential movers, furniture movers and office movers dedicated to providing complete customer satisfaction, experience, professional expertise and great service for residential or office relocations, whether you are moving within the San Francisco Bay Area or beyond. For more information about McGuire Movers, visit http://www.mcguiremovers.com call (415)307-2002.