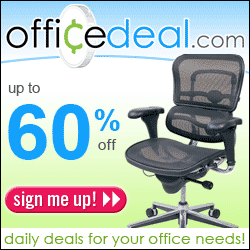 With OfficeDeal.com, we're giving customers a fun and exciting way to save on office furniture and accessories.
Milwaukee, WI (PRWEB) April 22, 2011
National Business Furniture (NBF) has launched OfficeDeal.com, a new daily-deal website that provides office furniture and accessories at heavily-discounted prices. Each day, OfficeDeal.com features a single new item that is deeply discounted from its normal price – up to 60% off – and shipping is always free. The deal is good for one day only and quantities are often limited.
NBF decided to launch OfficeDeal.com so it could offer great deals on overstocked items from its distribution centers as well as its suppliers' inventory. By offering substantial deals on office furniture such as office chairs, office desks and file cabinets; as well as office accessories like clocks, lighting and organizers, OfficeDeal.com is able to provide customers with amazing deals for their businesses or home offices.
"With OfficeDeal.com, we're giving customers a fun and exciting way to save on office furniture and accessories," says Randy Farah, Vice President of Merchandising for National Business Furniture – OfficeDeal.com's parent company. "Our vast network of suppliers allows OfficeDeal.com to offer deals on popular products ranging from chairs and desks to staplers and plants. Everything you need to keep your office looking good and running smoothly will be featured at OfficeDeal.com. Of course, you have to check back often so you don't miss a deal!"
OfficeDeal.com has made it easy to stay on top of the latest deals by offering several options to stay connected. By signing up for OfficeDeal.com's daily email alerts, people will have each day's deal emailed right to their inbox. OfficeDeal.com's Facebook and Twitter pages are updated daily so followers can see each new deal appear in their news feed. Plus, the "share this" function on OfficeDeal.com makes it easy to share a great deal with friends via social media sites, email and even text messages.
"We wanted to make sure that OfficeDeal.com had all the tools available for people to share any deal with their friends or colleagues," said Dean Stier, Marketing Director for OfficeDeal.com. "Signing up for our daily alerts gives customers the chance to get a jump on special deals and easily share those deals with their friends. We're very excited to leverage our expertise in the office furniture industry and provide a new website that is primarily driven by people sharing great deals and experiences with one another."
OfficeDeal.com features a large countdown-clock that marks the time remaining until the end of the deal. Once the time is up, the deal is over and a new one begins right away. To give people an idea of what deals they can expect, OfficeDeal.com previews tomorrow's deal every day and even shows the past several days of expired deals.
About National Business Furniture
National Business Furniture was founded in 1975 as a provider of office furniture for corporate offices, small businesses and government agencies. Since then, NBF has expanded into the school, church and home office markets through three catalog brands, multiple websites and an experienced sales team.
In 2006, NBF was acquired by K+K America, LLC, the leading group of business-to-business direct marketing companies in North America. NBF's family of brands include: National Business Furniture, OfficeFurniture.com, OfficeChairs.com, Alfax Wholesale Furniture and Dallas Midwest.
For a free catalog, or to browse the complete selection of office furniture such as desks, chairs, file cabinets, bookcases and reception furniture, go to NBF.com.
# # #