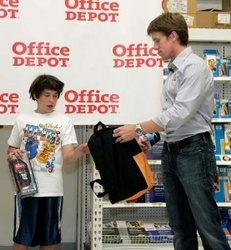 The National Backpack Program represents one of the most exciting and meaningful ways in which the Foundation and Office Depot demonstrate our commitment to good corporate citizenship
DELRAY BEACH, Fla. (PRWEB) August 14, 2007
All told, 300,000 backpacks will be donated to a variety of non-profit organizations and schools across the U.S. and Canada through the 2007 Office Depot Foundation National Backpack Program. The recipients, in turn, will provide the backpacks to deserving children whom they serve through their programs or in their classrooms. In the seven years of this program, Office Depot has provided nearly 1.5 million backpacks to children.
In just over a month, the Foundation will host special "Backpack Donation Day" events in more than 25 cities across the United States and Canada. Five events were held on August 8 in Florida, where Office Depot is headquartered. This week alone, events will take place in 11 cities - including New Orleans, where 10,000 backpacks were donated today (8/14) to local schools and organizations in continued support of the rebuilding process following Hurricane Katrina.
Carl Edwards, driver of the No. 99 Office Depot Ford Fusion in the NASCAR Nextel Cup series and Ambassador for Youth for National PTA, will participate in several upcoming backpack donation events during the back to school season.
"The National Backpack Program represents one of the most exciting and meaningful ways in which the Foundation and Office Depot demonstrate our commitment to good corporate citizenship," said Mary Wong, President of the Office Depot Foundation. "By placing backpacks containing essential school supplies into the hands of kids, we feel we are giving them the important tools they need to start school with confidence."
For the first time, the 2007 backpacks will come in five different color schemes, including blue, red, purple, green, gold, aqua and brown. Designed specifically to meet the needs of students in grades K-5, the backpacks feature two front pockets, a net pocket on the side, and wide padded straps for comfort and support. Each backpack contains a pencil pouch complete with the Back-to-School essentials - a ruler, four crayons, a glue stick, a pen, a pencil, a pencil sharpener and an eraser.
In addition to the events in specific cities, the Office Depot Foundation is partnering with five national non-profit organizations to distribute backpacks:
-- National Court Appointed Special Advocates (CASA) Association
-- Communities In Schools (CIS)
-- Feed The Children
-- Kids In Need Foundation
-- National Foundation for Women Legislators (NFWL)
Fun Facts about the 2007 Office Depot Foundation National Backpack Program
-- If all 300,000 Office Depot Foundation backpacks were placed end-to-end, they would cover a distance of 80.5 miles.
-- The 300,000 backpacks being donated in 2007 fill 12,000 boxes weighing 400,000 pounds - the approximate weight of a 747 aircraft.
-- The backpacks contain enough crayons to give one to all the residents of Wyoming and North Dakota - with more than enough left over for every person in the city of Atlanta.
-- If every child who receives a backpack from the Office Depot Foundation in 2007 came together at one time to watch a baseball game, they would fill Yankee Stadium, Fenway Park, Dodger Stadium, Wrigley Field and Shea Stadium.
-- If the nearly 1.5 million backpacks donated since the inception of the program in 2001 were stacked on top of each other, they would be as tall as 148 Empire State Buildings!
Source: Office Depot Foundation, http://www.officedepotfoundation.org
About the Office Depot Foundation
The Office Depot Foundation is an independent foundation that serves as the primary charitable giving arm of Office Depot. In keeping with its mission, Listen Learn Care, the Foundation strives to make a positive impact on many lives in many communities around the world. The Foundation supports a variety of programs that enhance the quality of life for children, strengthen communities, encourage local and global economic growth, and empower schools and non-profit organizations. It also provides support when disasters strike - doing what it can, not only to speed the process of rebuilding, but also to mitigate the impact of future disasters. For more information about the Office Depot Foundation, visit http://www.officedepotfoundation.org.
About Office Depot
Office Depot provides more office products and services to more customers in more countries than any other company.
Incorporated in 1986 and headquartered in Delray Beach, Fla., Office Depot has annual sales of over $15.4 billion, and employs approximately 52,000 associates around the world. Currently, the Company sells to customers directly or through affiliates in 43 countries.
Office Depot is a leader in every distribution channel -- from retail stores and contract delivery to catalogs and e-commerce. As of June 30, 2007, Office Depot had 1,186 retail stores in North America and another 369 stores, either company-owned, licensed or franchised, in other parts of the world. Office Depot serves a wide range of customers through a dedicated sales force, telephone account managers, direct mail offerings, and multiple web sites. With $4.7 billion in online sales during the last twelve months, the Company is also one of the world's largest e-commerce retailers.
Office Depot's common stock is listed on the New York Stock Exchange under the symbol ODP and is included in the S&P 500 Index. Additional press information can be found at: http://mediarelations.officedepot.com.