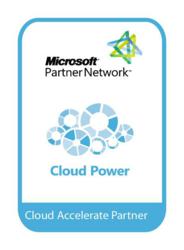 With our new Office 365 Cloud Accelerate capabilities, we help our customers realize enterprise level technology solutions that carry a small business price tag
Hoboken, NJ and New York City, NY (PRWEB) September 06, 2012
eMazzanti Technologies today announced that it has qualified as a member of the Microsoft Cloud Accelerate program by demonstrating its ability to meet Microsoft's customers evolving needs in today's dynamic cloud marketplace. To qualify for the Cloud Accelerate program, partners must successfully demonstrate their cloud services expertise through rigorous sales and technical assessments; and ensure the highest quality of services. In addition, Microsoft requires customer references to demonstrate successful customer implementations and satisfaction.
"With our new Office 365 Cloud Accelerate capabilities, we help our customers realize enterprise level technology solutions that carry a small business price tag," said Jennifer Mazzanti, president, eMazzanti Technologies. "Joining the Cloud Accelerate Program showcases our expertise in the cloud technology which gives our clients confidence in our ability to deliver the highest level cloud services."
eMazzanti Technologies provides leader-driven solutions and support to businesses in the Northeast and a number of other US and international geographies. eMazzanti focuses on bringing enterprise technology to the small business by leveraging virtualization, cloud services and creating affordable solutions that achieve valuable results. The Microsoft Cloud Accelerate program uniquely positions eMazzanti Technologies to provide the highest-caliber support to clients as they engage the cloud services landscape.
"Earning the Cloud Accelerate Badge demonstrates eMazzanti's ability to implement solutions that solve today's customer business challenges utilizing cloud services," noted Mazzanti. "We have proven our thorough competency in Microsoft cloud technologies."
The Microsoft Partner Network helps partners strengthen their capabilities to showcase leadership in the marketplace on the latest technology, to better serve customers and, with 640,000 Microsoft partners in their ecosystem, to easily connect with one of the most active, diverse networks in the world.
Business owners and managers that are interested in learning more about eMazzanti cloud service or would like to get a free 30-day trial of Office 365 should visit: cloudtechnology365.com.
About eMazzanti Technologies
With a company name that sounds more like a purebred, high-performance sports car than a IT support and consulting firm, eMazzanti Technologies is all about delivering powerful solutions such as outsourced IT, Office cloud technology 365, computer network management, network troubleshooting, business continuity and disaster recovery, green computing, mobile workforce technology, information security and business information optimization in the most efficient manner possible. The Hoboken, N.J., firm is located in one of the most densely populated - and competitive - regions in the U.S. It provides business technology consulting services for companies ranging from home offices to multinational corporations throughout the New York metropolitan area and in three countries. For more information contact: Carl Mazzanti 201-360-4400 or emazzanti.net. Twitter: @emazzanti , Facebook: Facebook.com/emazzantitechnologies.