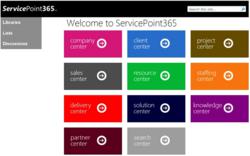 Customers in the services industry that are either considering subscribing to Office 365 or looking at ways to get additional benefits from this platform will want to see the extra value ServicePoint365 can bring to their business
Norcross, Georgia (PRWEB) January 30, 2013
Clients and partners will be able to sign up for free trials of ServicePoint365 from Cloud|AG in order to gain valuable hands-on experience with how the solution can enhance their overall Office 365 experience. As a leading application developer on Microsoft's Office 365 platform, Cloud|AG released ServicePoint365 as a pre-configured solution designed to meet many of the enterprise document management and collaboration needs of a services organization.
"Microsoft provides an easy way for clients to 'test-drive' Office 365 before they buy, and we felt it was just as important to make this same option available for ServicePoint365," says David Huseonica, President and CEO at Cloud|AG.
"Customers in the services industry that are either considering subscribing to Office 365 or looking at ways to get additional benefits from this platform will want to see the extra value ServicePoint365 can bring to their business," added Huseonica.
ServicePoint365 consists of a number of "Centers" that are designed to help companies better organize, collaborate and manage their client-, project-, proposal-, and resource-related information. Customers can simply apply ServicePoint365 to their Office 365's SharePoint Online environment and immediately start leveraging this technology to manage and collaborate on critical information in a secure, stable and easy-to-use environment that is accessible across a wide variety of desktop, laptop, tablet and mobile devices.
About Cloud|AG
Cloud|AG assists companies of all sizes to realize the power and flexibility of Microsoft's cloud-based collaboration and business applications. ServicePoint365 helps services operations maximize the collaboration and content management capabilities of Office 365 or SharePoint (Online or On-Premise). For additional information or to begin a free trial, contact Cloud|AG at info(at)cloudag(dot)com, (855) 256-8324, or visit http://www.cloudag.com. ServicePoint365 information can also be found in the featured application section of Microsoft's Office 365 Marketplace at http://office365.pinpoint.microsoft.com. Office 365 and SharePoint Online are registered trademarks of Microsoft Corporation.