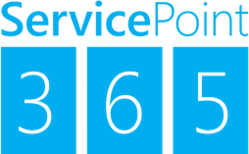 ServicePoint365 helps Office 365 be even more relevant for a professional services organization or operation while enhancing overall user experience
Norcross, GA (PRWEB) February 28, 2013
Cloud|AG announced that the second major release of ServicePoint365 will be compatible with the new Office 365 2013 platform. This platform will be available for new customers Feb. 27. With this release, customers can now choose to subscribe to ServicePoint365 to run in either the current or previous release of Office 365 or SharePoint.
ServicePoint365 increases Return on Investment (ROI) and reduces time to benefit of Office 365 for professional services operations by providing a number of "Centers" that are preconfigured to help companies better organize, collaborate and manage their client-, project- , proposal- and resource-related information. The solution leverages Microsoft Office 365's core applications (SharePoint Online, Exchange Online, Lync Online) to create a robust collaboration and enterprise content management environment.
"We are very pleased with the investment Microsoft has made in their Office 365 platform and feel it is quickly becoming the standard for business collaboration. ServicePoint365 helps Office 365 be even more relevant for a professional services organization or operation while enhancing overall user experience" said David Huseonica, President and CEO at Cloud|AG.
About Cloud|AG
Cloud|AG assists companies of all sizes to realize the power and flexibility of Microsoft's cloud-based collaboration and business applications. In addition, the industry solution ServicePoint365 helps professional operations maximize the collaboration and content management capabilities of Office 365 or SharePoint (Online or On-Premise). For additional information or to begin a free trial, contact Cloud|AG at info(at)cloudag(dot)com, (855) 256-8324, or visit http://www.cloudag.com. ServicePoint365 information can also be found in the featured application section of Microsoft's Office 365 Marketplace at http://office365.pinpoint.microsoft.com. Office 365 and SharePoint Online are registered trademarks of Microsoft Corporation.