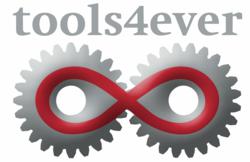 Tewkesbury, UK (PRWEB) January 19, 2012
Tools4ever, a market leader in Identity & Access Management (IdM) solutions, has developed another cloud application connector to add to its extensive range. This time it's for Microsoft Office 365, Microsoft's corporate internet service. With the new connector it is now possible for the company's User Management Resource Administrator (UMRA) to take over the management of Office 365. Using information from the Active Directory, personnel systems (AFAS, Beaufort etc.) or management (workflow/self-service), UMRA can automatically create, change or remove user accounts, e-mail, groups and roles in Office 365, or can reset passwords, rename and license users for specific parts of the package. It's also possible to implement a password change carried out in the Active Directory, for the corresponding user account within Office 365.
With the connector UMRA can retrieve information from Microsoft Office 365 and update it. Thanks to this automatic connection, System and Network Administrators no longer need to do this manually. As a result, they have more time to focus on more critical matters and end-users benefit as account issues can be resolved much faster.
There is already an extensive range of connectors that UMRA can use to manage user accounts (authentication) and rights (authorisation) in systems and applications. Alongside the standard connectors between Beaufort, AFAS, SAP HCM, Active Directory, Exchange etc, UMRA can connect generically based on CSV, ODBC, text files, SOAP, XML files etc. Currently, Tools4ever has more than 140 such connectors developed for a wide variety of clients. The Office 365 connector is just one of a range of connectors Tools4ever is constantly developing to satisfy market demand.
Alongside management of user accounts, Tools4ever has extensive experience in managing both on-site (LAN) applications and those which are not hosted within an organisation's network. Cloud applications are widely used within the Education sector and it is to this market that Tools4ever has traditionally offered broad support. Frequently used applications in this segment include Google Apps, Live@Edu, Magister, N@tschool, itslearning and Teletop.
For a complete overview of the connectors UMRA offers, go to http://www.tools4ever.com/gb/products/user-management-resource-administrator/connectors/
About Tools4ever
Tools4ever distinguishes itself through a no-nonsense approach and a low Total Cost of Ownership. In contrast to comparable Identity Management solutions, Tools4ever delivers a complete solution in just days rather than weeks or months. Partly thanks to this approach, Tools4ever is the absolute market leader in Identity Management in the Netherlands with more than 1.6 million managed user accounts. Tools4ever delivers a variety of software products and integrated consultancy services covering Identity Management, such as User Provisioning, RBAC, Password Management, SSO and Access Management. For further information: http://www.tools4ever.com
###