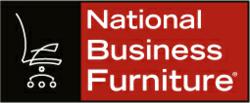 It's a big win for both NBF and for the Department of the Navy.
Milwaukee, WI (PRWEB) June 06, 2011
The U.S. Department of the Navy has awarded a five-year Blanket Purchase Agreement (BPA) to National Business Furniture (NBF), effective June 1, 2011. "The BPA provides all Navy and Marine Corps activities, domestic and international, with additional discounting. It's a big win for both NBF and for the Department of the Navy," stated Jake Feeley, Director of Government Sales at NBF, "Reducing the number of suppliers helps the Navy perform more efficiently, and NBF can promise them exceptional service and aggressive pricing."
NBF's BPA award includes all six office furniture classifications that were solicited. Five of the awarded classifications may be utilized by all domestic and international Navy and USMC buyers, while the sixth is limited to the Navy's eastern region:

Furniture systems and workstation clusters
Work surfaces, workstations, computer furniture and accessories
Filing and storage cabinets, shelves, mobile carts, dollies, racks and accessories
Multipurpose seating
Packaged office (eastern region)
BPAs are established under GSA Schedule contracts, after contractor evaluation. GSA Schedules make it easier for government entities to order supplies and services which recur over time, and take advantage of quantity discounts. This means more buying power and less administrative time and paperwork. BPAs create benefits for both federal agencies and Schedule contractors by increasing convenience and efficiency while reducing costs.
Feeley cites the breadth of NBF's office furniture selection, their ability to discount aggressively, a lifetime guarantee on all products, flexibility to ship the same day orders are placed, and extensive sustainable product offerings as likely reasons NBF was selected for the BPA. He feels the award provides NBF with a distinct advantage over their competition, as Navy buyers may soon be limited to purchasing solely from BPA holders. A statement issued by the Navy says, "In return [for additional discounting] Department of Navy anticipates the establishment of policy that would limit Navy spend for furniture to the BPA holders established by Fleet and Industrial Supply Center Norfolk." Feeley added, "NBF's extensive experience working with all divisions of the U.S. Government will ensure that we can execute the BPA award with top-notch service to the Navy."
About National Business Furniture
National Business Furniture was founded in 1975 as a provider of office furniture for corporate offices, small businesses and government agencies. Since then, NBF has expanded into the school, church and home office markets through three catalog brands, multiple websites and an experienced sales team.
In 2006, NBF was acquired by K+K America, LLC, the leading group of business-to-business direct marketing companies in North America. NBF's family of brands include: National Business Furniture, OfficeFurniture.com, OfficeChairs.com, Alfax Wholesale Furniture and Dallas Midwest.
For a free catalog, or to browse the complete selection of office furniture such as desks, chairs, file cabinets, bookcases and reception furniture, go to http://www.NBF.com.
# # #