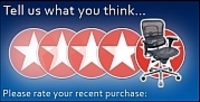 Bazaarvoice Ratings & Reviews gives NBF a proven and innovative way to market with their customers as they shop online and share their opinions with friends on social networks.
Milwaukee, WI (PRWEB) March 19, 2010
National Business Furniture has teamed up with Bazaarvoice to implement customer-driven product ratings and reviews on three of its websites: NBF.com, OfficeFurniture.com and OfficeChairs.com. All three websites will allow customers to rate products on a five-point scale as well as write a review describing their own experience using the product.
NBF and its sister organizations sell office furniture such as office chairs, office desks, file cabinets and conference furniture to small businesses and large corporations alike. By making product reviews available on its sites, NBF will add a consumer voice to its enormous selection. This "peer feedback" will help other customers rank products and make purchasing decisions.
"We feel that it's critical to give our customers a voice by allowing them to share their experiences with our products," said Eric Nebbia, vice president of eCommerce for National Business Furniture. "Consumers look to other consumers for help when making a buying decision. Our ratings and reviews program will allow us to hear what people think about our products while giving other customers powerful information to use for their own purchasing decisions."
The Bazaarvoice implementation also added a new social aspect to NBF.com. NBF shoppers can now share product pages with friends and coworkers through Facebook, Twitter and other social media platforms by simply clicking a "share" button. "It's a great way for people to share ideas and get immediate feedback from their peers," says Nebbia.
"NBF understands the power of real customer conversations to create real business results," said Sam Decker, CMO of Bazaarvoice. "Bazaarvoice Ratings & Reviews gives NBF a proven and innovative way to market with their customers as they shop online and share their opinions with friends on social networks. As a result, NBF is able to add new value to the online experience while infusing their business with customer oxygen that drives business transformation and change."
About National Business Furniture
National Business Furniture was founded in 1975 as an office furniture catalog for corporate offices, small businesses and government agencies. Since then, NBF has expanded into the school, church and home office markets through three catalog brands, six websites and an experienced sales team.
In 2006, NBF was acquired by K+K America, LLC, the leading group of business-to-business direct marketing companies in North America. NBF's family of brands include: OfficeFurniture.com, OfficeChairs.com, Alfax Furniture and Dallas Midwest.
For a free catalog, or to browse the complete selection of office furniture such as desks, chairs, file cabinets, bookcases and reception furniture, go to http://www.NBF.com. You can also become a fan of NBF on Facebook at http://www.facebook.com/nationalbusinessfurniture and follow NBF on Twitter at http://www.twitter.com/nbfonline.
About Bazaarvoice
Bazaarvoice's Software as a Service (SaaS) social commerce solutions have served more than 100 billion pieces of customer-generated content on more than 750 brand web sites like Best Buy, Blue Shield of California, Costco, Dell, Macy's, P&G, Panasonic, QVC, and USAA in 36 countries. The company connects organizations to their influencers through a unique network that reaches hundreds of millions of consumers around the globe, enabling authentic customer-powered marketing. Through syndication, analytics, partnerships, and consulting, Bazaarvoice brings the voice of the customer to the center of their clients' business strategy, proving "social" can drive measured revenue growth and cost savings for manufacturing, retail, travel, and financial services companies. Headquartered in Austin, the company has offices in Amsterdam, Düsseldorf, London, Paris, Singapore, and Sydney. For more information and access to client success stories, visit http://www.bazaarvoice.com, read the blog at bazaarvoice.com/blog, and follow on Twitter at twitter.com/bazaarvoice.
Contact:
Dean Stier
National Business Furniture
414-615-3667
Contact:
Renee Newby
Brady PR for Bazaarvoice
757-651-6554
###