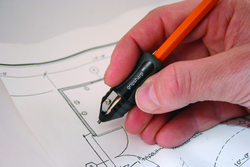 It's the pencil sharpener you twist it on and leave it on!
Woodland Hills, CA (PRWEB) September 1, 2009
TAD Products, an innovator in office supplies, introduces its new product, the GripSharp™ pencil sharpener. Developed by TAD, the GripSharp is a unique combination pencil sharpener/grip that remains on the user's pencil, allowing the user the freedom to sharpen anywhere, at any time.
The GripSharp is a great advance for manual pencil sharpeners. Its unique design strips away only the wood from the pencil resulting in a stronger, thicker point and longer lasting lead. This design also allows it to remain on the pencil in the form of a pencil grip, which forever eliminates the frustration of having to hunt for a pencil sharpener again.
''We at TAD believe that the benefits of the GripSharp span every working trade,'' says CEO Les Butler. ''Every contractor, homemaker or student who has ever searched high and low for a pencil sharpener will appreciate the simple, elegant convenience the GripSharp delivers.''
The GripSharp is also the first truly green pencil sharpener. By removing only the wood while sharpening, the GripSharp doubles the life of a pencil. The result - an extended pencil life, less wood needed for manufacturing and more trees saved.
The GripSharp introduces many advantages over existing manual sharpeners, including unmatched accessibility, improved grip and greatly extended pencil life.
Among the GripSharp's many key features is its unique design, which essentially turns any number 2 pencil into a mechanical pencil. The sharpener also provides the ultimate in convenience. "It's the pencil sharpener you twist it on and leave it on!" Butler says.
An extended life is another key benefit of the GripSharp. With a traditional pencil sharpener, wood and lead are removed together; with the GripSharp design, only the wood is stripped away, extending pencil life. The GripSharp also offers users an improved grip. The soft wide-barrel design improves grip and reduces stress on the wrist, fingers and hand that can cause carpal tunnel. The gripSharp also has the added feature of visibility: five bold colors make finding the pencil as easy as sharpening it.
For more information about the GripSharp pencil sharpener office supply product, contact Les Butler or visit http://www.gripsharpco.com.
Contact:
Les Butler
CEO
TAD Products, Inc.
(818) 230-2055, ext. 703
###