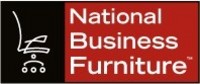 Many of our customers, whether they are business, government or school buyers, work within strictly defined schedules
Milwaukee, WI (PRWEB) September 16, 2008
National Business Furniture (NBF) has opened three warehouses across the country to provide its customers with same-day shipping on hundreds of items. NBF, which until this year relied solely on furniture suppliers to drop-ship their goods directly to customers, began stocking products in their own warehouses to provide customers with better service and quicker delivery.
Items that are stocked in the NBF warehouses will ship the same day a customer places the order, meaning most customers will receive their products within two to three business days. NBF added special "Ships Today!" icons throughout their catalog and website to identify items that are available for immediate shipment. In addition, NBF's website, NBF.com, has a "Ships Today" category so customers can quickly browse furniture that's available for same-day shipping.
"Our 'Ships Today!' program is a natural extension of our customer-focused vision," NBF President Kent Anderson said. "We move quickly to react to our customers' needs, and getting furniture faster is a common theme we've heard. Our decision to invest in these warehouses reflects our continuous commitment to providing our customers with the best level of service we possibly can."
The ability to offer same-day shipping on many items has proven to be very popular with customers. NBF plans on doubling its offering of stocked products for 2009. In addition to the chairs and school furniture already in stock, NBF will begin adding desks, files and conference tables over the next few months.
"Many of our customers, whether they are business, government or school buyers, work within strictly defined schedules," NBF Vice President of Merchandising Randy Farah said. "We understand that in addition to expert service and a great selection, how fast the furniture actually gets to the customer is an important deciding factor. By stocking our most popular items, our customers will be better equipped to meet their deadlines."
About National Business Furniture
National Business Furniture was founded in 1975 as an office furniture catalog for corporate offices, small businesses and government agencies. Since then, NBF has expanded into the school, church and home office markets through three catalog brands, five websites and an experienced sales team.
In 2006, NBF was acquired by K+K America, LLC, the leading group of business-to-business mail order companies in North America.
For a complete selection of executive office suites and traditional office furniture such as desks, chairs, file cabinets, bookcases and reception furniture, or for a free catalog, go to NBF.com. Or visit any of the NBF family of brands including: OfficeFurniture.com, OfficeChairs.com, Alfax and Dallas Midwest.
Contact: Dean Stier, 414-276-8511
###