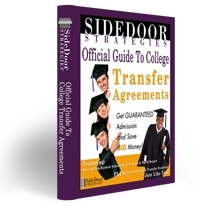 Why spend $3,000 on a general education class when you can take the same course for less than $500? Using these agreements, we show families how to save big on tuition expenses, in some cases over $90,000 in two years
Keymar, MD (PRWEB) February 18, 2009
Austin Meyermann, President of SideDoor Strategies, LLC, proudly announces the release of The Official Guide to College Transfer Agreements. This book is the first publication to highlight and detail college transfer agreements, commonly known as articulation agreements, for over fifty of the country's top-ranked colleges and universities.
Articulation agreements are contractual relationships between partnering schools that facilitate the transfer of course credit between institutions. Such agreements make it easier for students to transfer course credit between schools.
However, the ability to transfer credits is only half the story. While on paper a course may be considered equivalent between partnering schools there may be a major difference in cost. For example, the University of Southern California charges $1,249 per credit hour while Los Angeles City College charges $20 per credit hour ($201 for out-of-state students). These schools have an articulation agreement making courses such as English 101 equivalent in the eyes of admissions and registrar officials. However, the cost difference is over $3,000.
"Why spend $3,000 on a general education class when you can take the same course for less than $500? Using these agreements, we show families how to save big on tuition expenses, in some cases over $90,000 in two years," says Austin Meyermann. "Best of all, anyone can make use of these agreements, regardless of income or merit!"
Some articulations agreements go further than simply establishing credit reciprocity and actually guarantee admission to partnering schools contingent upon certain criteria, such as maintaining a minimum Grade Point Average (GPA). These opportunities exist for many of the top schools in the country including Cornell University, the University of Virginia, and New York University.
SideDoor Strategies is committed to the idea of an affordable college education that will not leave students or their parents awash in debt. For each four-year school profiled, The Official Guide to College Transfer Agreements highlights the savings which can be achieved by first attending a partnering two-year school, the average debt of its students, and the details of the agreement and application process. The Guide also includes comprehensive information on articulation agreements, college debt and financing options, and the potential impact of current and pending legislation on students planning to attend college.
The Official Guide to College Transfer Agreements also introduces profiles of eight Transfer AmbassadorTM students that have used or are currently using articulation agreements to their economic and educational advantage. These students come from a range of ethnic and financial backgrounds and their inspiring stories show how a degree from a top-tier college can be achieved through the use of articulation agreements.
Learn more about the book and the Transfer Ambassadors at SideDoorStrategies.com and on the Facebook page for SideDoor Strategies Official Guide to College Transfer Agreements, which is one of several rich and dynamic online resources being launched in conjunction with SideDoor Strategies Official Guide to College Transfer Agreements. In addition, experience a Transfer Ambassador'sTM ongoing journey through the acceptance and transfer process through her blog at http://www.collegetransferagreements.com.
About SideDoor Strategies:
Based in Keymar, MD, SideDoor Strategies is the exclusive source and distributor of the Official Guide to College Transfer Agreements. SideDoor's mission is to deliver high quality educational resources that help students and their families overcome financial hurdles which may be impeding their goal of obtaining a degree from a top tier institution.
About Austin Meyermann, President
SideDoor Strategies founder, Austin Meyermann, graduated from Tompkins Cortland Community College (TC3) with an associate's degree in Liberal Arts - Math & Science. Under an articulation agreement between TC3 and Cornell University, he was guaranteed admission to Cornell, where he completed his bachelor's degree in Agricultural & Biological Engineering with less than $10,000 in college debt. Prior to founding SideDoor, Austin served as a C-level executive for several start up companies.
###