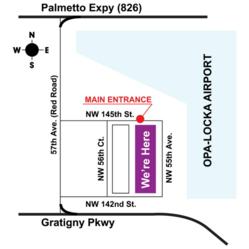 Off Lease Only customer service experience has been to provide people with easier car buying solutions, through an impressive inventory, competitive prices, hassle-free financing and zero pressure to buy
LAKE WORTH, FL (PRWEB) August 01, 2012
Off Lease Only seems to do everything in a big way; from the 800+ used vehicles that are for sale on their Lake Worth lot to surpassing the 40,000 mark for the number of used cars sold. It goes without saying that when the biggest seller of used cars in Florida opens the doors to their new Miami location Wednesday, August 1st, they won't be doing so without great celebration, prizes and giveaways.
Due to the great success of their primary South Florida location, Off Lease Only decided to expand its operations and to start selling used cars in Miami. With the grand opening of what promises to be another mega used car dealership, complete with as many as 1000 used cars, trucks and SUVs at any given time, finding quality used cars in Miami will be just that much easier.
Off Lease Only's new location will not only offer its customers an unbeatable selection of cars, but also the opportunity to save thousands of dollars. Just like they do at the Lake Worth location, people looking for used cars for sale in Miami will find that Off Lease Only's vehicles are priced for thousands of dollars less than retail.
What's more is that the 11 acre facility will also offer four service bays so that people shopping for used cars in Miami can have their new vehicles serviced, on-site, both before and after purchase. A major part of the Off Lease Only customer service experience has been to provide people with easier car buying solutions, through an impressive inventory, competitive prices, hassle-free financing and zero pressure to buy. John Giasullo, Off Lease Only's general manager, said Miami shoppers can expect this same commitment to the highest standards of service.
Those who visit the new location on opening day will have the chance to win a variety of prizes and giveaways, including $100 gas cards and a 2-night stay at the beautiful Naples Grande Beach Resort, not to mention get the first peak at the great selection of used cars. Miami residents, whether they're currently looking for a new car or not, are encouraged to drop by the new location, to partake in the fun, and to see what Off Lease Only has to offer.
Visit Off Lease Only this Wednesday at 5580 NW 145th Street, Miami, Fl 33054. Please note that this address does not display correctly in all navigation systems so you're advised to call (786) 439-2277 or (888) 837-8064 or use map as a guide.
Off Lease Only MIAMI is located at NW 145th, Just East off 57th Ave (Red Road) South of the 826 & North of the Gratigny.
About Off Lease Only:
Off Lease Only is Florida's #1 Volume Used Car Dealership for more information visit http://www.offleaseonly.com