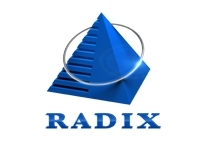 This certificate signifies every moment of our hard work to transform Radixweb into a reliable Company
Ahmedabad, India (PRWEB) July 27, 2009
Radixweb, leading offshore software Development Company from India providing Software Development Services & Solutions, proudly announces today that it has received the ISO 9001:2008 certification.
Radixweb gives customize web development services to ensure that clients' internet presence far exceeds their competition. When clients choose Radixweb, they can rest assured that their web application will be first-rate and user friendly, developed with state-of-the-art technology and modern techniques.
Radixweb visualize instilling intense human values in our team, and inculcating wisdom, logic and a keen judgment of ethical code of conduct to create Intelligence immeasurable that can deliver the best praiseworthy business solutions for its clients.
Benchmark Certification has given Radixweb ISO 9001:2008 for providing consulting and development services for web site, software, E-business Application and customized development. BSI Benchmark Certification offers management systems and product certification, training services, publications and standards. Benchmark Certification endeavor to: create competitive advantage through improved performance, create value with sustainable business practices, and minimize disruption through effective risk management.
Company believes that ISO 9001:2008 is an important driver of quality. ISO 9001:2008 certification recognizes organizations that can link business objectives with operating effectiveness. ISO 9001:2008 is a Quality Management Standard. Use it to establish, upgrade, and certify your organization's Quality Management System.
Companies that achieve Management System certification to ISO 9001:2008 have demonstrated effective execution of documentation and records management, top management's dedication to their customers, establishment of policy, good planning and execution, good resource management, resourceful process control, measurement and analysis. Continual improvement has been institutionalized.
"This certificate signifies every moment of our hard work to transform Radixweb into a reliable Company," says Radixweb COO Dharmesh Acharya
Divyesh Patel CEO says "It is excellence initiative; recertification is a team effort touching the responsibilities and accountability of every department in our organization."
Vimal Dagli VP Sales says "The efficiency, consistency and dedicated quality services that result from customers' confidence in our capabilities"
Radixweb has technical expertise on PHP MySql Applications, Open Source Solutions, Microsoft .Net Development, JAVA Applications, Embedded Applications, and Web 2.0 Applications.
Radixweb helps its clients in companies design, develop and integrate business solutions based on the windows or linux platform. Radixweb′s development team develops and delivers comprehensive solutions utilizing the full and state of the art range of tools and technology. Radixweb has expertise in PHP, dot.net and Ruby on Rails (RoR) development and consulting. Radixweb specialize in ARM & DSP Processors, Embedded Linux, Windows CE ,Palm OS, VxWorks and QNX .Users expect rich interaction and high performance from browser-based applications, and Radixweb know how to deliver. Whether you are using Microsoft .Net, LAMP (Linux, Apache, MySQL, PHP), or Ruby on Rails, Radixweb staff can develop user interface (GUI) in Flex, Silverlight, AJAX technologies for building rich interactive web applications.
Radixweb's operational headquarter is in Ahmedabad, India and office in USA.
###