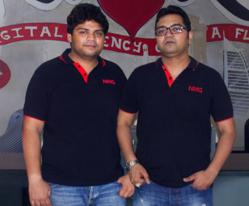 New Media Guru (NMG) acts as a one-stop-shop for clients who are looking for web design company in India , allowing them to draw on modular or fully integrated design, development and internet marketing services. - Mohit Maheshwari
(PRWEB) May 01, 2013
New Media Guru (NMG), an innovative offshore web development and digital marketing agency celebrates 8 years in business in 2013.
Commemorating this occasion the company has launched an inspiration story series for Entrepreneurs called "IGNITE // OUTSOURCE // MULTIPLY // ELEVATE"
As part of the series celebrating entrepreneurship worldwide and in the digital space, the company's blog will be updated monthly with a case study of an entrepreneur who ignited an idea, outsourced the execution and multiplied the returns and as a result elevated the idea to a whole new level.
As part of this launch, New Media Guru wants to share its own inception story.
The company's story is inspiring for budding "new entrepreneurs" and 2nd generation entrepreneurs.
The brothers – Mohit Maheshwari and Rohit Maheshwari wanted to build a web development company based in India servicing clients worldwide - worked single mindedly over a span of 12 years "across the globe" to gain experience, professional, educational knowledge combined with global exposure to start such a venture .
New Media Guru (NMG) acts as a one-stop-shop for clients who are looking for web design company in India , allowing them to draw on modular or fully integrated design, development and internet marketing services.
The success story of this venture really started when the Maheshwari Brothers chose the inherent passion over their family's over 30 year old business of electronic retail stores. "The international market opportunity with a Global digital delivery model of NMG was far too lucrative and the exposure was immense as compared to local business models." said Mohit Maheshwari, Managing Director, New Media Guru (NMG). When asked about the reason for not joining the family business, he added, "We were taught that if you pursue something you are truly passionate about then you don't feel it is work, but start enjoying the challenges and the entire process of building the venture."
Mohit worked with a US startup based in US, India and London in 2000 and focused on business development in the US market. He helped the company and its clients grow over the years. Mohit also motivated Rohit to join the digital industry after he completed his Business Administration degree from India and a professional course in Digital Marketing from City University, London.
Rohit worked in the UK and gained practical work exposure in London in the digital industry working with entertainment brands.
The company, New Media Guru (NMG) initially started in 2005 by Rohit Maheshwari was a boutique agency set up in London, servicing clients in the UK. Soon it was transformed into a global delivery center with a production hub in Delhi NCR, India servicing clients internationally in the US, Australia, UK, Singapore, Macau, UAE and other regions around the world.
The Maheshwari brothers amalgamated their individual experiences of doing business globally, setting up business development practices, building creative, technology and web marketing teams, processes and other capabilities to start venture with a team that had full faith in their capabilities of delivering on their vision.
The right approach is what makes New Media Guru shine amongst the contenders. Maheshwari brothers believe in offering quality services and value to the clients.
The real motto of the company is Digital agency of a Flat world – so giving enterprises, brands, start ups and small-medium businesses a feel of working with an established "agency" with pricing which is economical compared to a local web agency in the US and UK.
"New Media Guru's business is in a unique space where the market is expanding and there are limited good quality companies looking to fill that void. It's not a matter of how much revenue you want to generate but a matter of how good quality of service offering you want to maintain for your clients globally." said Rohit Maheshwari, Managing Director, New Media Guru.
"We are looking to grow our organization in the next 5 years in terms of increasing our footprint in the US, UK and Indian market, growing our team size, looking for budding our service offering in new technologies like mobile, cloud computing, complex web applications, nurturing our teams and building leaders in specific domains and services.", said Mohit Maheshwari, when asked about the future potential of their Venture.
Today, New Media Guru (NMG) is servicing a broad range of blue chip international companies, tech startups, small-medium businesses and scaling up production capabilities of digital and web agencies based in global locations like US, UK, Australia, Norway, Singapore, UAE to name a few.
The Company "Welcomes" brands & organizations who want to go the digital way and have a vision to make digital marketing and web/mobile platform development a big part of their brand presence and marketing strategy.
Contact New Media Guru (NMG) on info(at)newmediaguru(dot)co(dot)uk or visit the company's website at http://newmediaguru.co.uk