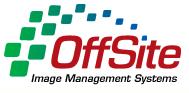 The combined resources of the two companies will allow both of us to innovate more rapidly and continue to lead the industry in the provision of hardware, software and infrastructure services
Kansas City, MO (PRWEB) August 06, 2012
Offsite Image Management Inc, a leading provider of vendor neutral archiving for DICOM images has purchased an equity position in Triggerfish Corporation. Offsite CEO Lasha Dalakishvili said, "We've utilized Triggerfish's cloud environment for the last year. When we had the opportunity to purchase part of the company, it was a perfect fit. It gave us the opportunity to control a greater portion of our supply chain, but still maintain our focus on software development and service delivery while Justin and his staff continue to focus on hardware and infrastructure."
Justin Copeland will continue to lead Triggerfish. Dalakishvili will continue to lead Offsite. The acquisition will, however, allow the organizations to merge back office operations and experience greater economies of scale.
"We are excited to have Triggerfish as part of the Offsite family. The combined resources of the two companies will allow both of us to innovate more rapidly and continue to lead the industry in the provision of hardware, software and infrastructure services," Dalakishvili added.
About OffSite Image Management Inc.
OffSite Image Management Inc. serves the Data Storage, Business Continuity, and Disaster Recovery needs of healthcare facilities including small to medium sized hospitals, critical access facilities, imaging centers and physician's offices. Offsite solutions include, but are not limited to, disaster recovery, workflow continuity, data migration, and provision of PACS services.
About Triggerfish Corporation
Triggerfish is a professional services firm dedicated to simplifying the demands of IT in public and private practice health care organizations. Triggerfish provides cloud storage, networking, infrastructure and web design services.
For additional information, contact Lasha Dalakishvili at lashad(at)offsiteimagemgt(dot)com or Dave Sarowski at dsarowski(at)offsiteimagemgt(dot)com.