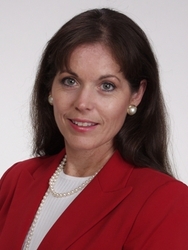 Mary Jo's latest appointment confirms her dedication to industry issues and trends that will impact our clients and our industry at large
Brentwood, Tenn. (Vocus) July 9, 2008
Mary Jo Muoio, Senior Vice President of Ozburn-Hessey Logistics (OH Logistics), has been elected to a second term as President of the National Customs Brokers & Forwarders Association of America (NCBFAA). Muoio is the first female president to lead the Washington, D.C. based association.
"I am honored to continue my service to this organization comprised of respected trade facilitators," remarked Muoio. "Our work is central to moving the industry dialogue forward in a constructive way, and I look forward to the challenges and opportunities within international trade that we will address in my second term."
NCBFAA represents nearly 800 member companies in international trade – the nation's leading freight forwarders, customs brokers, ocean transportation intermediaries, Non Vessel-Owning Common Carriers (NVOCCs) and air cargo agents, serving more than 250,000 importers and exporters. Through its various committees, counsel and representatives, the association maintains a close watch over legislative and regulatory issues that affect its members.
"Mary Jo's latest appointment confirms her dedication to industry issues and trends that will impact our clients and our industry at large," stated Scott McWilliams, CEO of OH Logistics. "Her leadership of this organization is an asset to our company, and we encourage OH Logistics employees to follow her example of active involvement with industry associations."
In addition to her positions at the NCBFAA and OH Logistics, Muoio is on the Board of Governors for the New York – New Jersey Forwarders and Brokers Association and is a Past-President of the Philadelphia Customs Brokers and Forwarders Association, among other affiliations. She is a frequent lecturer both nationally and internationally on U.S. import requirements.
Another OH Logistics employee, Albert Oses, was recently elected to lead the Florida Customs Brokers and Forwarders Association.
About OH Logistics (http://www.ohlogistics.com)
Based in Tennessee, Ozburn-Hessey Logistics is one of the largest 3PLs in the world, providing supply chain management solutions including international and domestic transportation, warehousing, customs brokerage, freight forwarding, and import and export consulting services. The company offers fulfillment, e-commerce fulfillment, service parts management, return logistics, network optimization, cross docking, and pool distribution. OH Logistics consists of three divisions—International Services, Contract Logistics and Transportation Services. The company operates over 120 value-added distribution centers and offers complete transportation management services domestically and internationally. OH Logistics serves the food service consolidation; industrial; electronic and high-tech; health and beauty; consumer products; and many other industries and employs over 5,700.
OH Logistics can be reached at (877) 401-6400 or on the Web at http://www.ohlogistics.com.
Contacts:
Karen Hall
Director of Marketing & Communications
Ozburn-Hessey Logistics
(615) 524-3652
khall @ ohlogistics.com
Tara Tocco
Account Executive, Public Relations
Gish, Sherwood & Friends
(615) 385-1100
ttocco @ gish.com
###