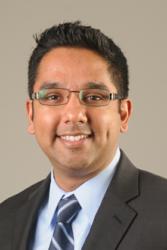 Unlike other allergies, food allergies are usually life threatening
Columbus, OH (PRWEB) June 26, 2012
In December, Dr. Summit Shah, allergist at Nationwide Children's Hospital, was asked to present his findings on food allergies and Exercise at the XXII World Allergy Congress. In his presentation, the Ohio allergist cautioned individuals to be mindful of reactions with food allergies and exercise.
Being asked to speak at the Congress was a tremendous honor for Dr. Shah and his research team. "We are pleased that the World Allergy Organization appreciated the importance of our findings enough to invite us to speak," stated Dr. Shah. "Like us, they believe that allergy patients and clinicians need to be aware of the various forms of food allergies."
Dr. Shah, allergist at Dublin Methodist Hospital, discussed two patients who experienced anaphylactic reactions after eating foods they were not previously allergic to, and exercising shortly after the food was ingested. The first, a 23-year-old Asian male, had a reaction to cashews after exercising, despite having eaten them previously without any problems. The second, a 42-year-old male, had a similar reaction to shrimp. In both cases, the patients exercised less than 60 minutes after eating.
"What was interesting about these findings," stated Dr. Shah, "was that the skin prick tests were inconclusive. In the first patient, he tested positive for a reaction to cashews, but the second patient tested negative. Based on this, we believe that anaphylactic reactions after food ingestion followed by exercise can be more common than with food ingestion alone."
The study also suggests that patients can have an anaphylactic episode to a food that they are not actually allergic to if they exercise after eating it. "We believe that allergen absorption increases in a post-exercise state," stated Dr. Shah. "For this reason, we recommend that people who have food dependent exercise-induced anaphylaxis only exercise on an empty stomach, waiting at least 60 minutes after eating to exercise. This time frame appears to limit the chances of a reaction."
What is frightening about this particular situation is that the anaphylaxis may be unknown to the patient, because it does not present as a food allergy unless the food and exercise are mixed. Because the reactions are life threatening for many patients, Dr. Shah reminds clinicians that they should be aware of the possibility, and should consider this combination when taking patient histories.
Dr. Shah is passionate about educating people on food allergies. "Unlike other allergies, food allergies are usually life threatening," he said. "My goal as an allergist is to teach people how to manage their allergies and find ways to avoid allergens altogether."
About Dr. Summit Shah
Dr. Summit Shah is the lead allergist at Premier Allergy. As the winner of the prestigious "America's Top Allergist" award and Medical Advisor to the "My" Food Allergy Support Group, he is committed to helping patients find relief from all types of allergies, including food allergies and environmental allergies. For more information about his practice and food allergies, visit http://www.premierallergyohio.com.