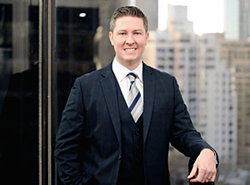 This verdict was not only a win for our client, but all Ohioans who currently suffer from an asbestos-related disease and want their day in court in Cleveland.
CLEVELAND, Ohio (PRWEB) January 26, 2015
On December 15, 2014, after a 2-week trial before the Honorable Harry A. Hanna, a Cleveland jury rendered a personal injury verdict for an Autozone store manager against Honeywell International Inc. as a successor to The Bendix Corporation ("Bendix") in the Court of Common Pleas, Cuyahoga County, Ohio.
The plaintiff, represented by mesothelioma attorney Donald P. Blydenburgh of Levy Konigsberg LLP and Ohio mesothelioma attorney Christopher J. Hickey of McDermott & Hickey LLC, filed a lawsuit (1) against Bendix alleging that the asbestos-containing Bendix brakes that the defendants sold to aftermarket shops through the late 1980s proximately caused plaintiff's mesothelioma, a lethal cancer caused by asbestos exposure.
According to the plaintiff's mesothelioma attorneys, they investigated possible sources of their client's asbestos exposure and found that he was exposed to asbestos fibers from his work with Bendix brakes throughout his employment at AutoZone from 1985 to at least 1989, during such time that he would sand the new brakes for customers so that they would not squeak when the customer would install them at home. During the trial, the plaintiff's mesothelioma attorneys were able to prove that not only was plaintiff unknowingly exposed to asbestos from sanding Bendix brakes, but Bendix had needlessly included asbestos in those brakes as it had designed, manufactured and sold non-asbestos brakes for vehicles decades earlier.
The trial against Bendix started on December 1, 2014. Testimony of the plaintiff, his wife, and expert witnesses concluded on December 12, 2014. After deliberating upon the evidence, the jury held Bendix liable for the plaintiff's medical care and treatment, past pain and suffering prior to his death, and his wrongful death. When asked what should be taken away from this case and the verdict, attorney Donald P. Blydenburgh said, "This jury concluded rightfully so that it does not matter your occupation or degree, whether you are an auto store manager or a garage mechanic, if you are exposed to asbestos dust from a Bendix brake, it can cause you to suffer a lethal cancer. For the first time in years, a Cleveland jury was allowed to consider whether punitive damages should be awarded. This verdict was not only a win for our client, but all Ohioans who currently suffer from an asbestos-related disease and want their day in court in Cleveland."
As per the evidence presented in court, Brake manufacturer Bendix began selling asbestos-containing brakes in the late 1930s. Bendix continued to sell replacement asbestos brakes in the aftermarket through 2002 despite its ability to design brakes without asbestos in brakes since the mid-1960s. Additionally, during the 1960s, 1970s and 1980s Bendix was aware that the asbestos in its brakes could cause asbestos-related disease, including mesothelioma, but chose not remove it from its products.
LK is a national recognized asbestos litigation firm specializing in the representation of mesothelioma and lung cancer victims for close to 30 years.
For more information about this Ohio mesothelioma lawsuit, please contact attorney Don Blydenburgh at 1-800-637-6529 or submit an online inquiry at the firm's website.
(1) Watkins et al. v. Affinia Group, et al., Case No. 12-780871, Cuyahoga County Court of Common Pleas (Dec. 15, 2014)