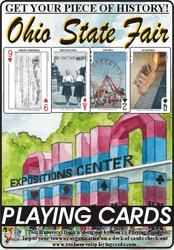 Canal Winchester, OH (PRWEB) July 23, 2007
This year Ohio State Fair goers can pick up a deck of souvenir playing cards ($7.50) that features unique images and information about the history of the Ohio State Fair over the past 150-plus years.
The card back for the Ohio State Fair Souvenir Deck (http://www.statefairplayingcards.com) features a drawing of the old block "OHIO" entrance that was built in 1966 and torn down in 2002.
The face cards feature 54 images from the collection of fair historian, LaVon Shook. Each card includes a fun image and an educational fact to help you learn about the fair and its history. The clubs feature what is often described as the basics of any fair with cards about rides and food. They also include more specifics like the butter cow, Cowman and The All-Ohio State Fair Band. While the diamonds take a look at the first Ohio State Fair, scenes from early fairs and even the first women ticket seller during WWII, the hearts show historical medals, ribbons and fair bills from fairs over 100-plus years ago. Finally, the spades highlight the competition, agricultural and livestock side of The Great Ohio State Fair.
This deck holds true to the historical side of "souvenir" playing cards by using 54 interesting facts and images about the Ohio State Fair and its wonderful history.
ABOUT THE PUBLISHER, NEWT'S PLAYING CARDS
Newt's has been selling exclusively playing cards since 2002. Over the years NewtsCards.com has transformed into the playing card portal on the internet offering playing cards from around the world. It is the dream of Newt's Playing Cards to bring back the historical look in to what they call "Real" Souvenir Playing Cards. (http://www.RealSouvenirPlayingCards.com)
# # #