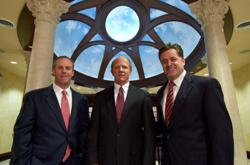 Cleveland, OH (PRWEB) January 29, 2013
The Onder Law Firm's Ohio truck accident lawyers have created a website for persons whom have sustained injury in an accident in Ohio involving a commercial truck. The firm's Ohio truck accident website details the different types of accidents that most frequently involve commercial trucks on the roads and highways of Ohio, the causes typically uncovered behind each type of truck accident and why many of them could have been prevented. The truck accident lawyers at The Onder Law Firm take each and every case seriously, but none deserve more attention than those involving a serious injury or death of a loved one as a result of a trucking accident.
Commercial truck drivers are held to a higher standard than the regular motorists, who are not paid to drive as well as having advanced training and licensing requirements. The operation of commercial trucking companies, whether they are based in Ohio or just crossing the state as part of interstate commerce, occurs with the primary motivation of profit. Given the disparity in size and weight of even a local delivery truck compared to that of a passenger car or light truck, commercial trucking accidents in Ohio all too often result in a family tragedy, whether that be the loss of income for a umber of months or the loss of a beloved family member forever. These tragedies, particularly when they could have been prevented with better maintenance, safer equipment or a less rigorous schedule, can take years to move beyond often times can never be gotten over. But one thing that should never happen is for those who suffered to suffer further financially when the company or companies at fault are permitted to profit. One of the attributes common among all of The Onder Law Firm's truck accident attorneys is a desire for justice, which serves their clients well.
When devastating truck accidents happen, The Onder Law Firm offers their assistance in the form of a no-cost, no-obligation truck Ohio truck accident lawsuit case review. The Onder Law Firm handles all commercial truck accident cases on a contingency basis, meaning they are only paid if they are able to produce a result for their client.
The Ohio truck accident lawyers at The Onder Law Firm welcome inquiries from other law firms in regards to handling or working as co-counsel on Ohio truck accident lawsuits.
About The Onder Law Firm
Onder, Shelton, O'Leary & Peterson, LLC is a St. Louis based personal injury law firm handling serious injury and death claims across the country with offices in Cleveland, Ohio. Its mission is the pursuit of justice, no matter how complex the case or strenuous the effort. Onder, Shelton, O'Leary & Peterson have represented clients throughout the United States, and other firms throughout the nation often seek its experience and expertise on complex litigation. It is a recognized leader in products liability cases such as window blind cord strangulation and pharmaceutical litigation. The Onder Law Firm offers information pertaining to the Ohio truck accident lawyer services at http://www.truckaccidentlawyersohio.com/.